Zero Waste Supplies For Cleaning
Most conventional cleaning products are irritating to both the nose and throat due to artificial fragrances, volatile organic compounds (the same building blocks that create smog), and other toxic ingredients.
Most conventional cleaners are also packaged in plastic and many of them aren't biodegradable meaning they won't break down in nature.
Why are we using cleaning products that will wind up in our waterways and natural environments if they're toxic and won't breakdown?
Ever since we learned about the chemicals and toxins released by the wipes and disinfectant sprays we're using nonstop lately, we've been on the hunt for eco-friendly cleaning products we can feel better about using in our homes. Here are some zero waste supplies for cleaning.
Brushes and Brooms
While a plastic broom or dish brush is much cheaper and more easily purchased at the general store, they'll never break down once their use has run out.
A wood brush made with natural bristles, either from animal hair or plant fibers, can be composted. The wood and fiber will break down and become one with the earth again. When you have to sweep something up, but don't want to break out the vacuum, a classic wooden broom is the way to go. Most brooms on the market are made from plastic (including the bristles!), but you can certainly still find wooden brooms with natural bristles online. Good item for your zero waste supplies list!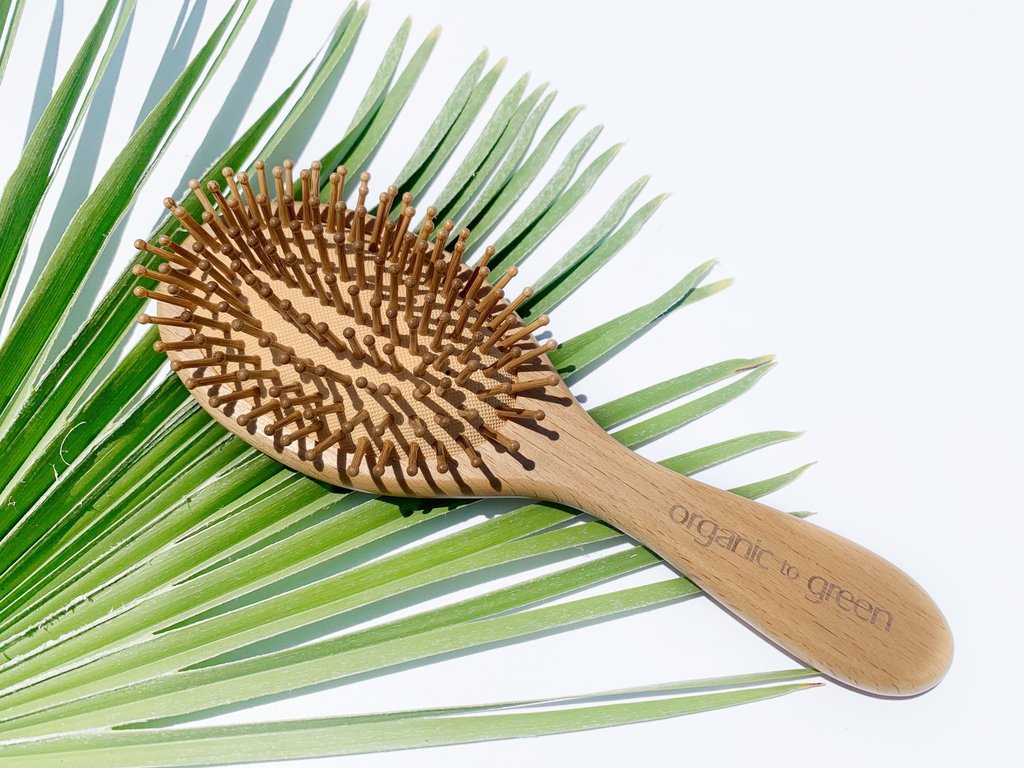 Feather Duster
You can certainly get a plastic-free feather duster. Just be aware that most plastic-free feather dusters are made from ostrich feathers and wooden handles. I recommend getting one-second hand, so that way it's already in existence and you're just keeping it out of the landfill. If you feel like feather dusters just move dust around, or onto the floor, you can always just vacuum it up afterward. 
Amber Spray Bottles
You'll need these to store your cleaner recipes if they contain and oils. The amber glass helps to diffuse the sun and keep the oils from losing their potency.
Towels
We do use our own flour sack towels for just about everything around the house such as dish washing, window cleaning, floor cleaning, and everywhere in between. We also use hand knit dishcloths more often than store bought ones. They are cheap but very efficient items in zero waste supplies list.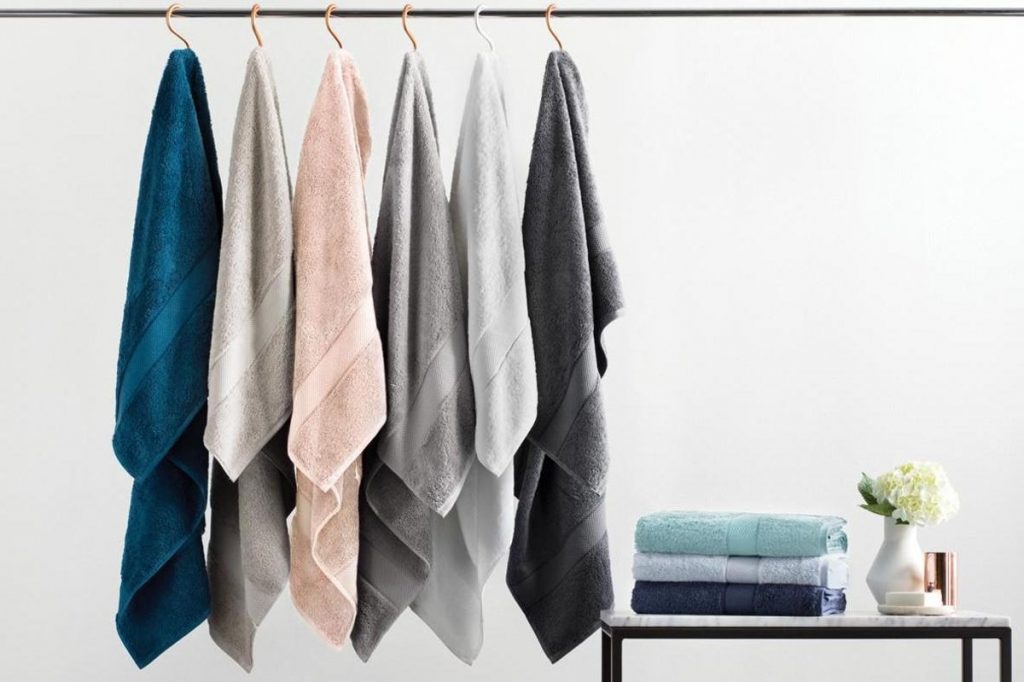 Essential Oils
You don't have to use essentials oils to clean, but they can help and have added health benefits. Try using lemon, wild orange, melaleuca, grapefruit, peppermint, eucalyptus,…
Distilled White Vinegar
Distilled white vinegar can clean windows, floors, and bathrooms, remove stains, remove odor from garbage cans and pet accidents in the carpet, and kill bacteria. It makes the perfect magic solution. It can be a bit too harsh for some surfaces – if you want to play it safe, you can use apple cider vinegar instead! Just make sure you use the raw variety with the "mother" in it.
Coconut Oil
Have a squeaky door hinge? Grab the coconut oil! Coconut Oil is great for removing crayon marks on the walls and scuff marks from the floor. This is a nifty little tool for hiding hardwood scratches, too, which happens pretty often in our house!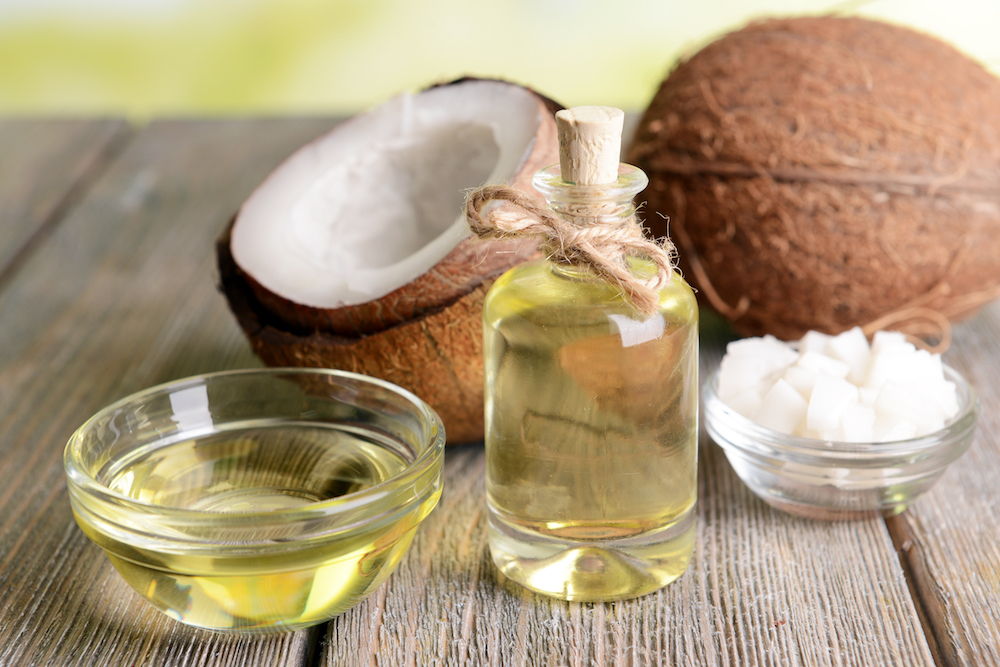 Baking Soda
This little basic salt is perfect for absorbing odors in the refrigerator or litter box, cleaning your clothes, react with vinegar in your shower or bathtub to make a good scrub, and can even be a great way to wash off dirt coated veggies! Must-have thing you should add to your zero waste supplies list.
Castile Soap
Combine this with essential oils to clean your kitchen sink and dishes, wash your laundry, remove grease spots from walls, mop the floor, shampoo your carpets, and scrub the toilet! Easy but efficient zero waste supplies.
Zero Waste Supplies For Kitchen
Reusable Silicone Bags
Whether you're using plastic baggies for prepping lunches, storing leftovers, tossing veggies in oil and seasoning, or freezing food, these Reusable Silicone Zero Waste Food Storage Bags will be a perfect replacement to reduce waste.
Our Reusable Zero Waste food storage bags are perfect for kids! No more soggy sandwiches or sticky lunch boxes! Our food storage bags are 100% non-toxic, and non-allergenic. the reusable zero waste food storage bags are a healthier alternative to disposable plastic bags. Made from 100% pure, food-grade silicone, our non-coated, BPA-free silicone zippered bags can be used to store food safely and without worry. Our silicone bags are not only better than plastic bags but also more economical.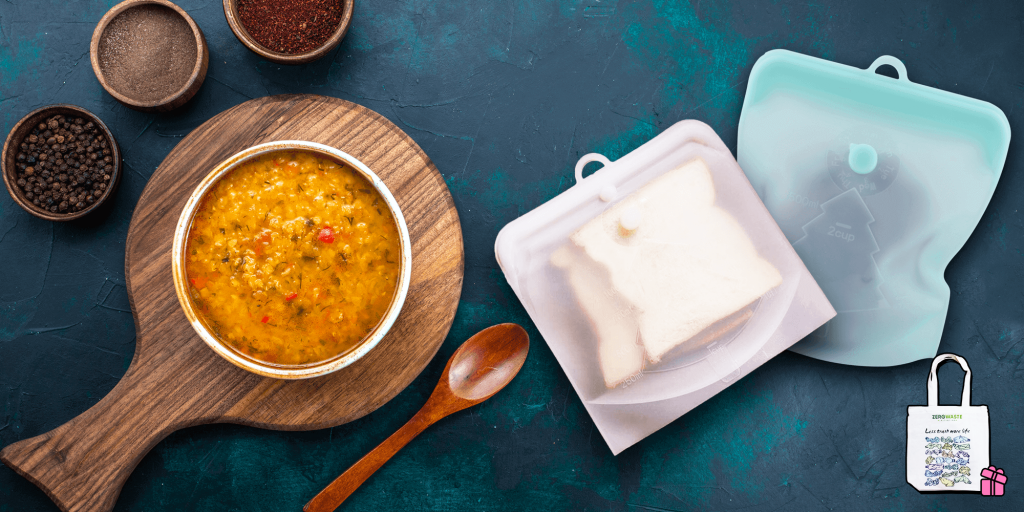 Cloth Rags
Paper towels might be convenient, but they come at a heavy cost — to our environment and on our wallets. And while estimates vary on the exact environmental impact (this source estimates there are 3,000 tons of paper towel waste in the U.S. and that 17 trees are cut down and 20,000 gallons of water are used per ton of paper towel production), there's no question this single-use habit is simply unsustainable.
To make this swap, use your existing towels and rags first!
Reusable Cloth Napkins
Another single-use paper product that we have to end for the sake of our forests and our wallets? Paper napkins!
I think napkins should be added to everyones zero waste supplies list. Reusable napkins are an easy zero waste kitchen swap to make that will save you from having to buy package after package of single-use paper napkins.
To minimize the environmental impact, consider sourcing linen, hemp, or organic cotton napkins or even better, using fabric you already have to make your own!
Sturdy Reusable Containers
Food containers are a great way to store leftovers and cut-up produce for later. There are over 40 million tons of food waste each year just in the U.S. or about 30-40% of the U.S. food supply.
The lowest waste option for food storage is to use any containers you've already got on hand! Perfect item for your zero waste supplies list! Or you can use these Reusable Silicone Bags With Smart Stands. These silicone zero waste bags were BPA free, no PVC or any poisonous chemicals. They were made of 100% pure high quality food grade material, which is sturdy, reusable and recyclable. Silicon baggies will last you for years, so there's no need to restock them every month. Imagine how much time and money you would save! The reusable silicone zero waste bags can save at most 400 plastic bags a year!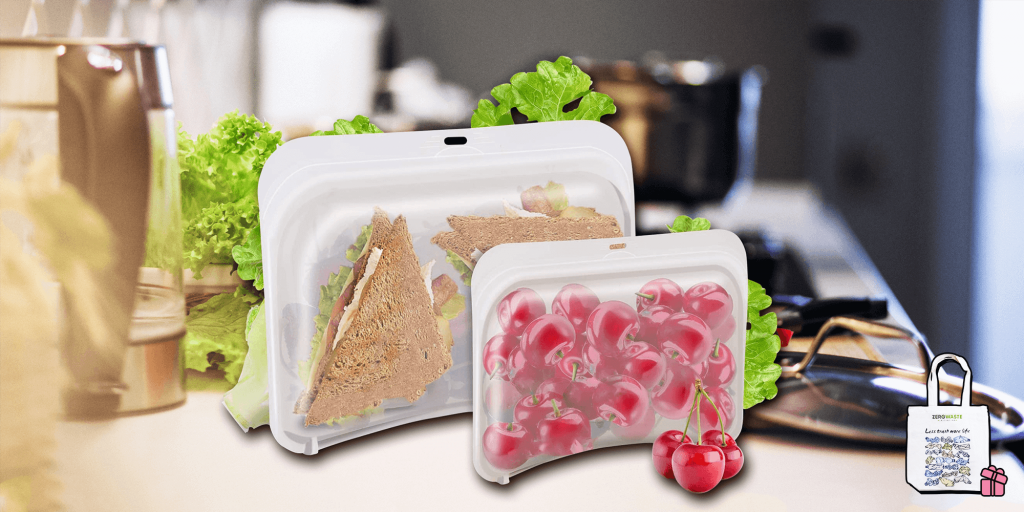 Swedish Dish Cloths
Swedish dishcloths are super absorbent, making them a great natural alternative to synthetic sponges. EcoRoots has some eco-minded dish clothes made from 70% cellulose, 30% cotton and printed with watercolor-based dyes. They are 100% compostable at the end of their life.
Cloth Produce Bags
Store your produce away safely with reusable cloth bags! Cloth reusable bags can also be used at grocery stores to eliminate single-use plastic produce bags. (At the time of writing, many stores are not allowing reusable bags due to COVID-19, but I do think that we will be able to bring in our own reusable bags again.)
Reusable Cooking Untensils
Silicone Cooking Utensils are not only better than plastic cooking utensils but also more economical. Zero waste cooking utensils will last you for years, so there's no need to restock them every month. Imagine how much time and money you would save! Best items for a zero waste kitchen!
In baking, you can also use silicone baking sheets. These are money and time savers! There is usually very little clean up needed after use and they are non stick. Amazing for cookies and all your baking needs. Using these items will help you a lot in creating your own zero waste supplies list for sure!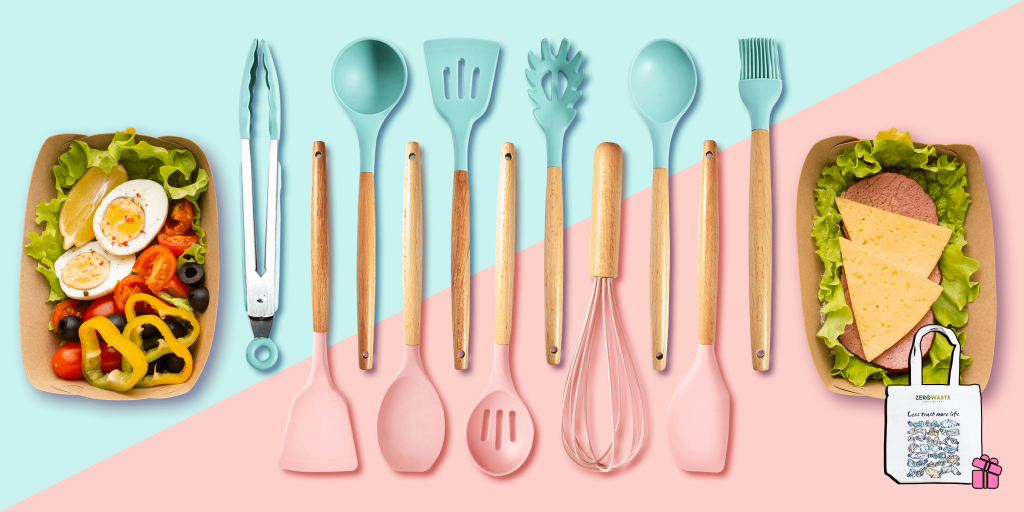 Zero Waste Supplies For Bathroom
Since becoming a waste free bathroom, we've had to rethink a lot of the products and tools that we use to clean with.
Whether you're looking to save money or you simply love to craft, these do-it-yourself tutorials will help you live more eco-friendly by reducing your overall waste and reusing as much as possible.
Short on time? Save this post for later!
Here's a list of zero waste supplies that you can make to create an eco-friendly bathroom.
Scrub That Soap Scum Away!
Mix together Castile soap and baking soda to make a thick paste. Take that to your shower, tub, or sink and get to scrubbing. Want to pack even more disinfecting power? Pour some vinegar over the solution and watch it foam! Remember this recipes to make your own zero waste supplies list.
Remove Grout Stains
If you like to have pearly white grout, try using baking soda and spray with hydrogen peroxide and scrub with a toothbrush. Making you own zero waste supplies from now!
Make Your Own Comet!
You can make your own by combining baking soda, sea salt, washing soda, and essential oils (for scent). If you wet the tub first with water or vinegar, it can help get the powder to stick to the tub. Let it sit for about 5 minutes, scrub, and wash away. Making zero waste supplies is not hard as you think, right?
Wash The Toilet
This is pretty easy to do! Just sprinkle baking soda around the bowl and pour a cup of vinegar into the water. With a toilet brush, scrub the inside of the bowl. You can use our all purpose spray cleaner for the seat and underneath where most urine lingers. Zero waste supplies!