Reusable Silicone Zero Waste Bags With Smart Stands
We created these silicone Zero Waste bags to be endlessly reusable, keeping single-use plastics from entering our oceans and landfills. 
One bag. One choice. All for the planet.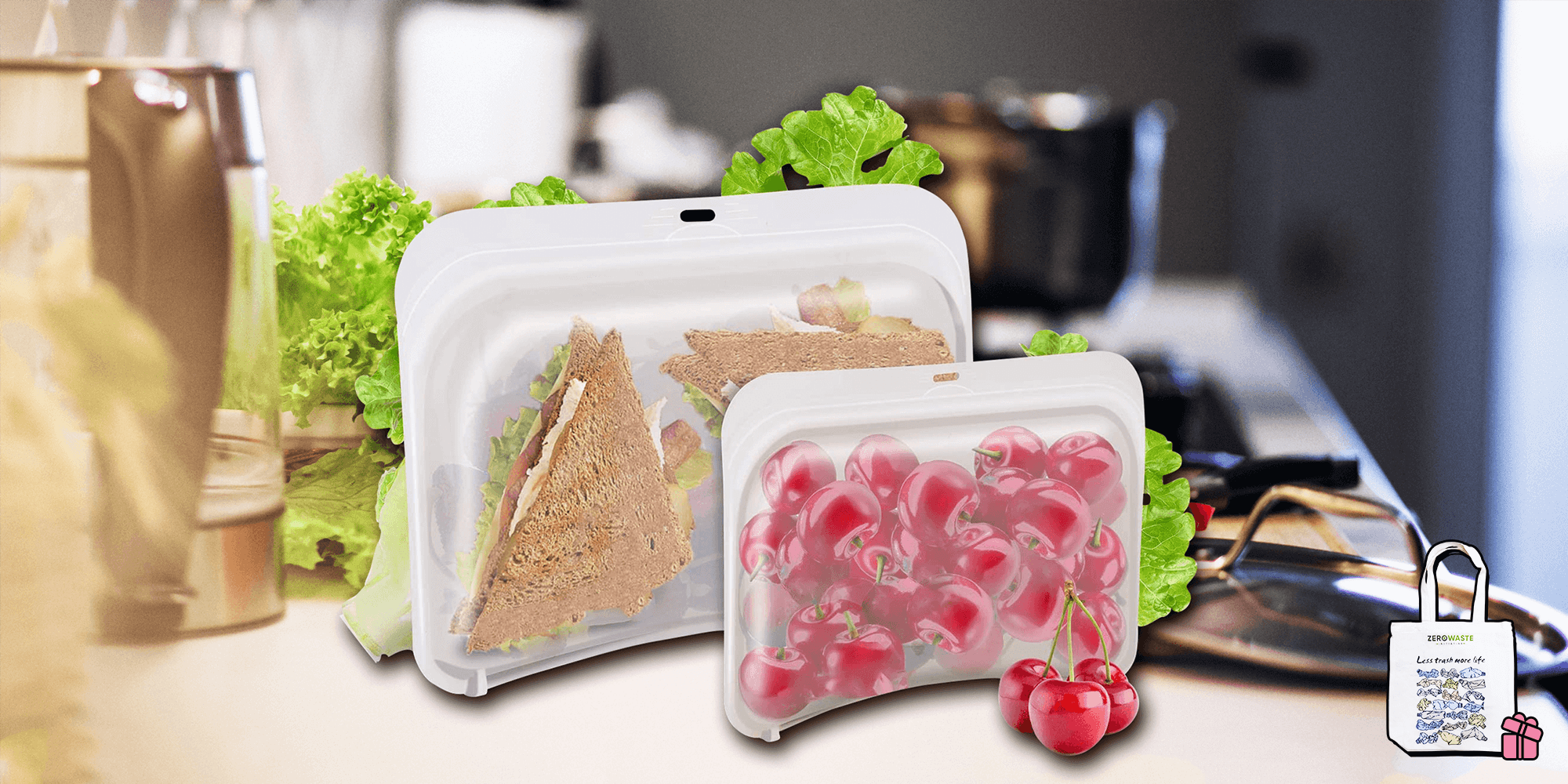 The value of Zero Waste Bags
The world produces 400,000,000( four hundred million) tons of plastic annually, nearly half of which is considered single-use. Each year more than 8,000,000 (eight million) tons of plastic waste ends up in the ocean. Some of this non-biodegradable flotsam washes up on beaches. It fouls habitats and mars scenery. It becomes accidental food for seabirds and sea turtles.
About the mission of Zero Waste Initiative
The mission of Zero Waste Initiative is reduce the use of disposable plastic bags, provide people with safe, convenient, eco-friendly, recyclable and zero waste products, trying our best to save our planet, would you like to join us?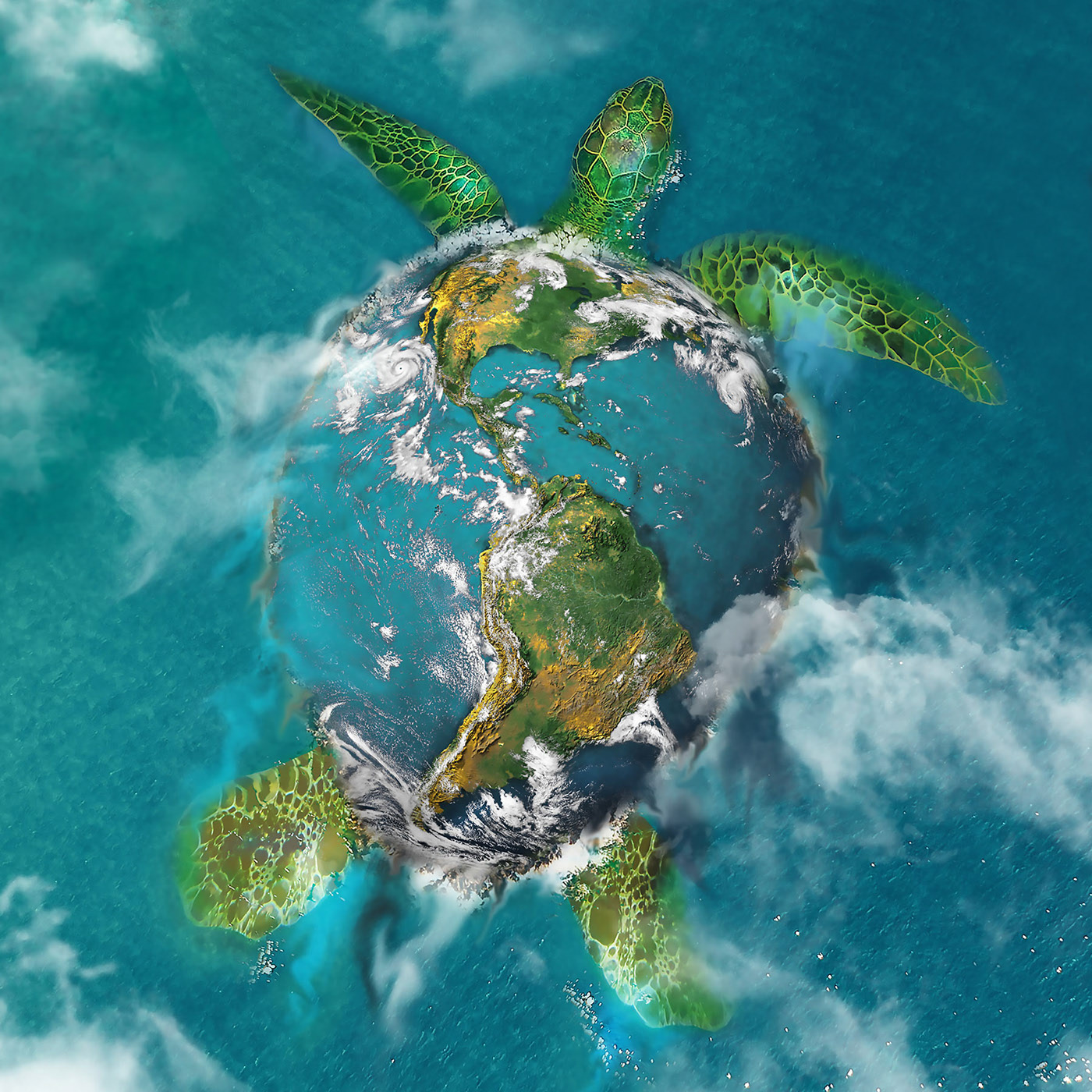 silicone ZERO WASTE BAGS | product detail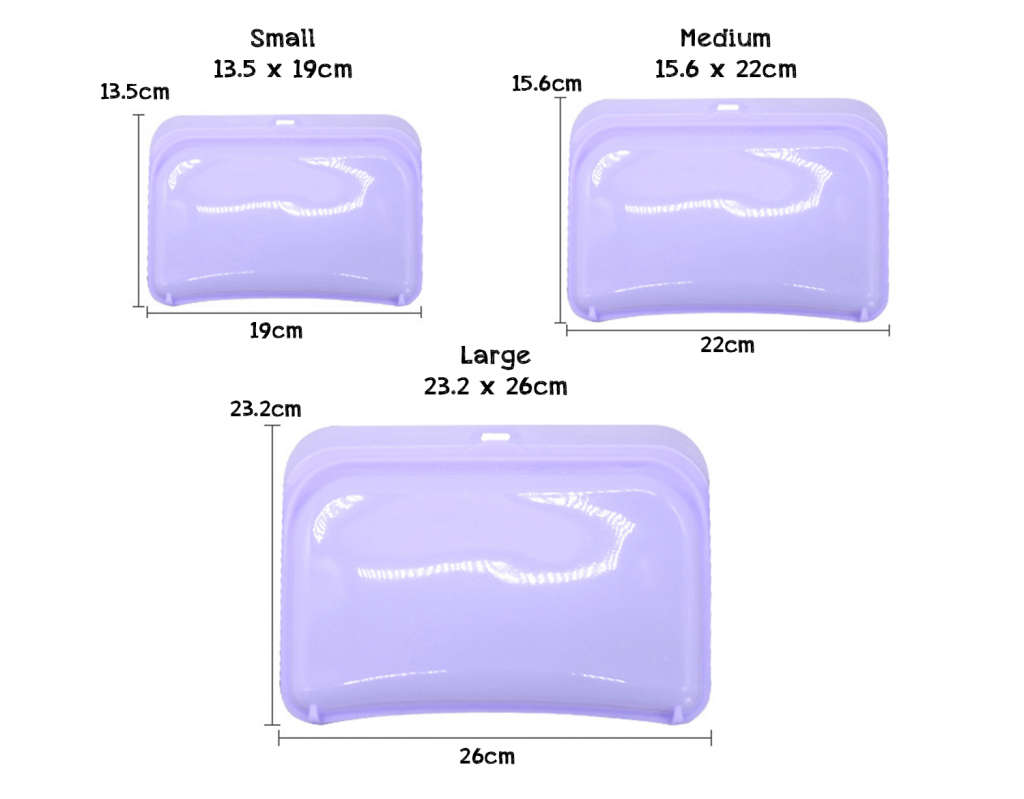 Three different sizes; soft, good elasticity, kink-resistant and not deformed; tasteless, non-toxic, dust-proof, non-penetrating, easy to clean. These bags are clear and free of any dyes! With each order you'll receive 3 reusable zero waste bags! 14.3 x 19.5 cm bags, 16 x 22.5 cm bags and 24.5 x 27.5 inch bags! Different sized bags for different jobs!

Why choose Silicone Zero Waste Bags?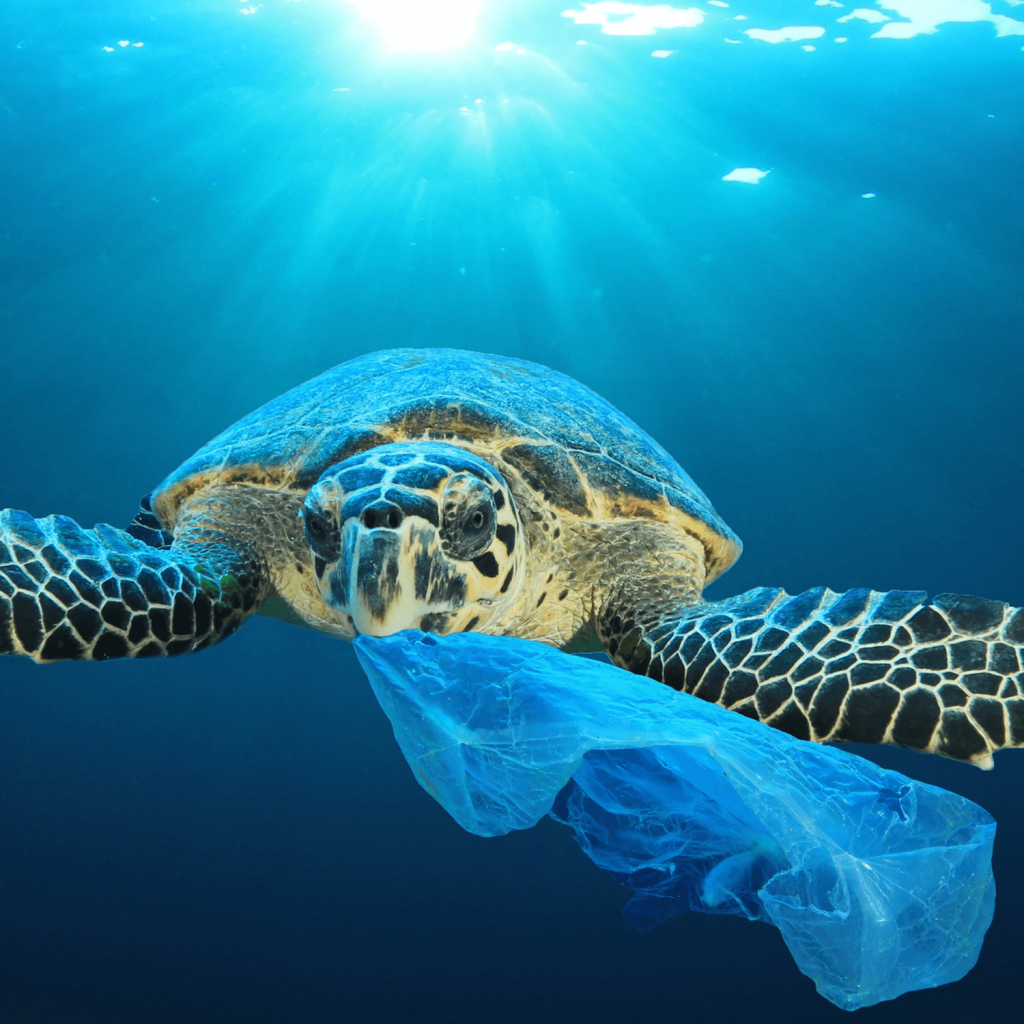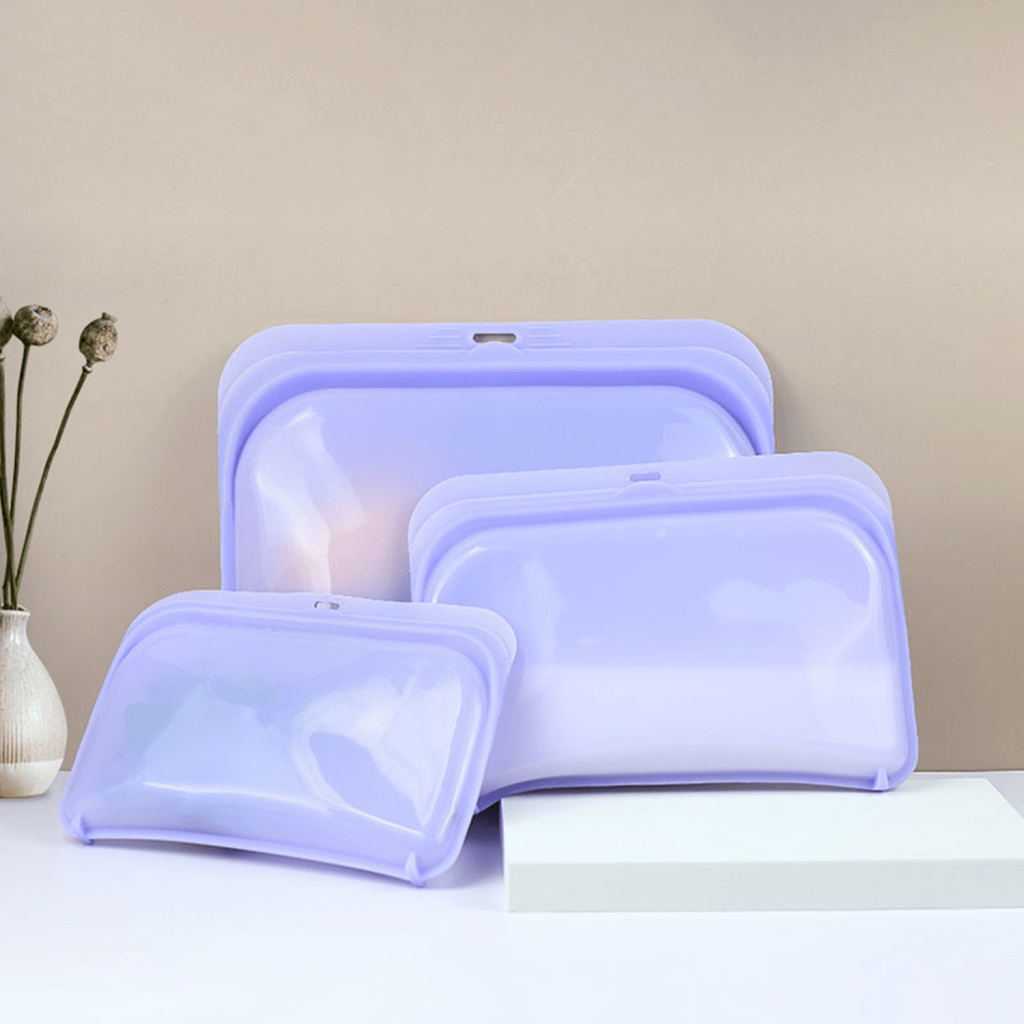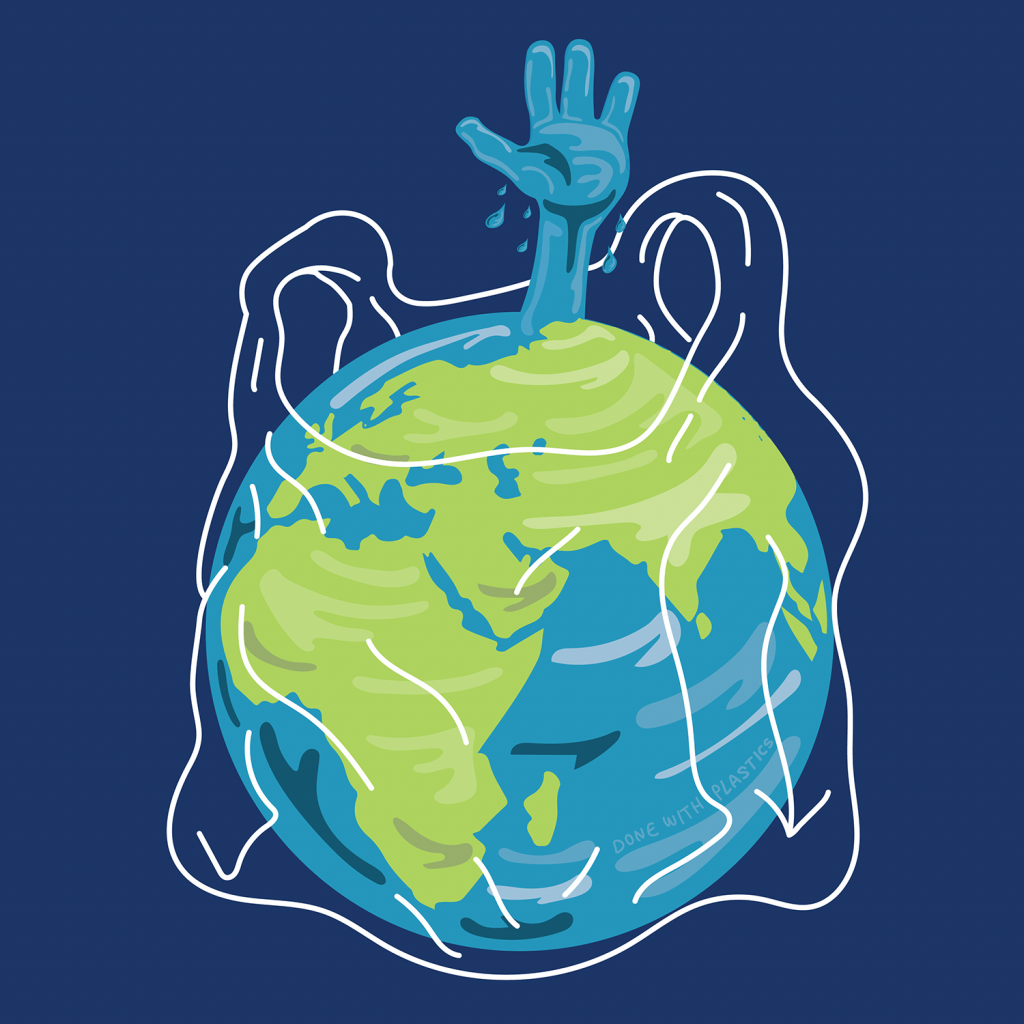 These silicone zero waste bags were BPA free, no PVC or any poisonous chemicals. They were made of 100% pure high quality food grade material, which is sturby, reusable and recyclable. Our silicone bags are not only better than plastic bags but also more economical. Silicon baggies will last you for years, so there's no need to restock them every month. Imagine how much time and money you would save! The reusable silicone zero waste bags can save at most 400 plastic bags a year! Together we can reduce pollution to our planet by using these reusable silicone bags!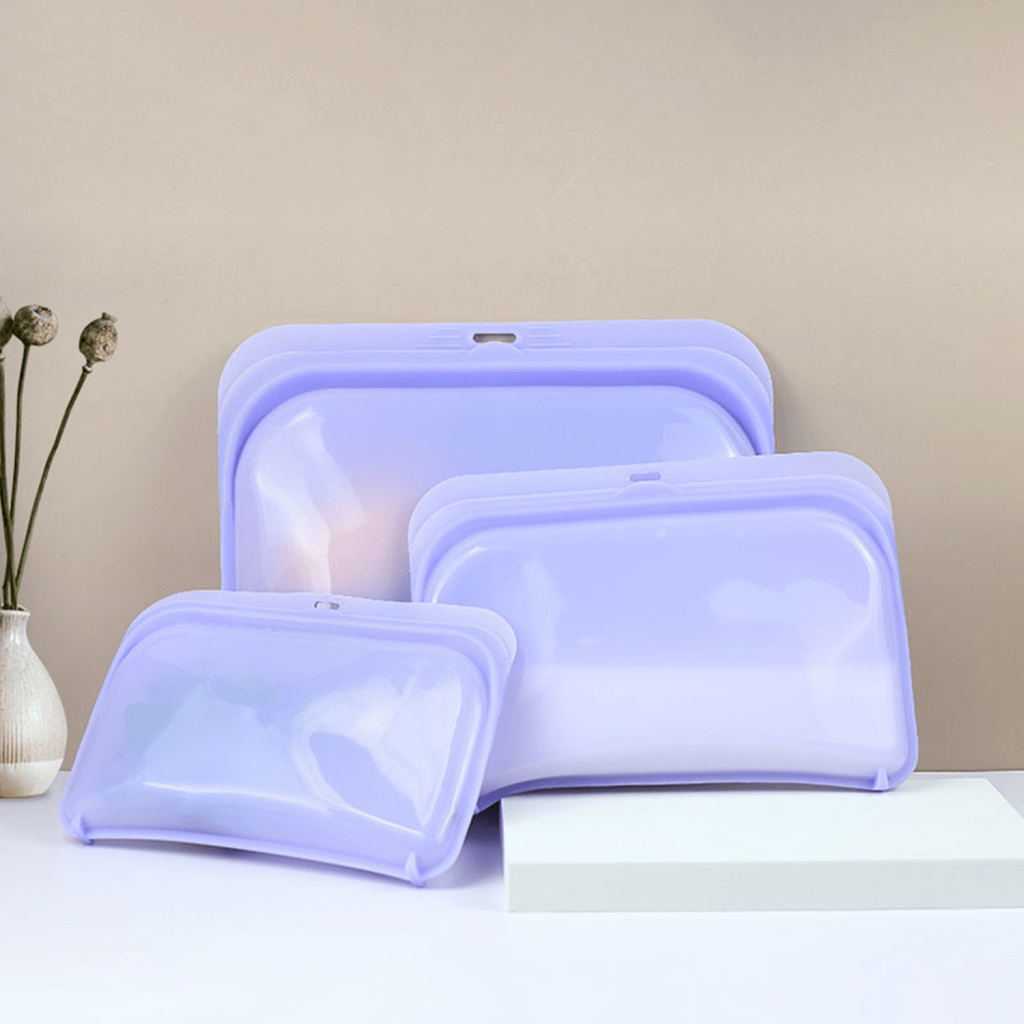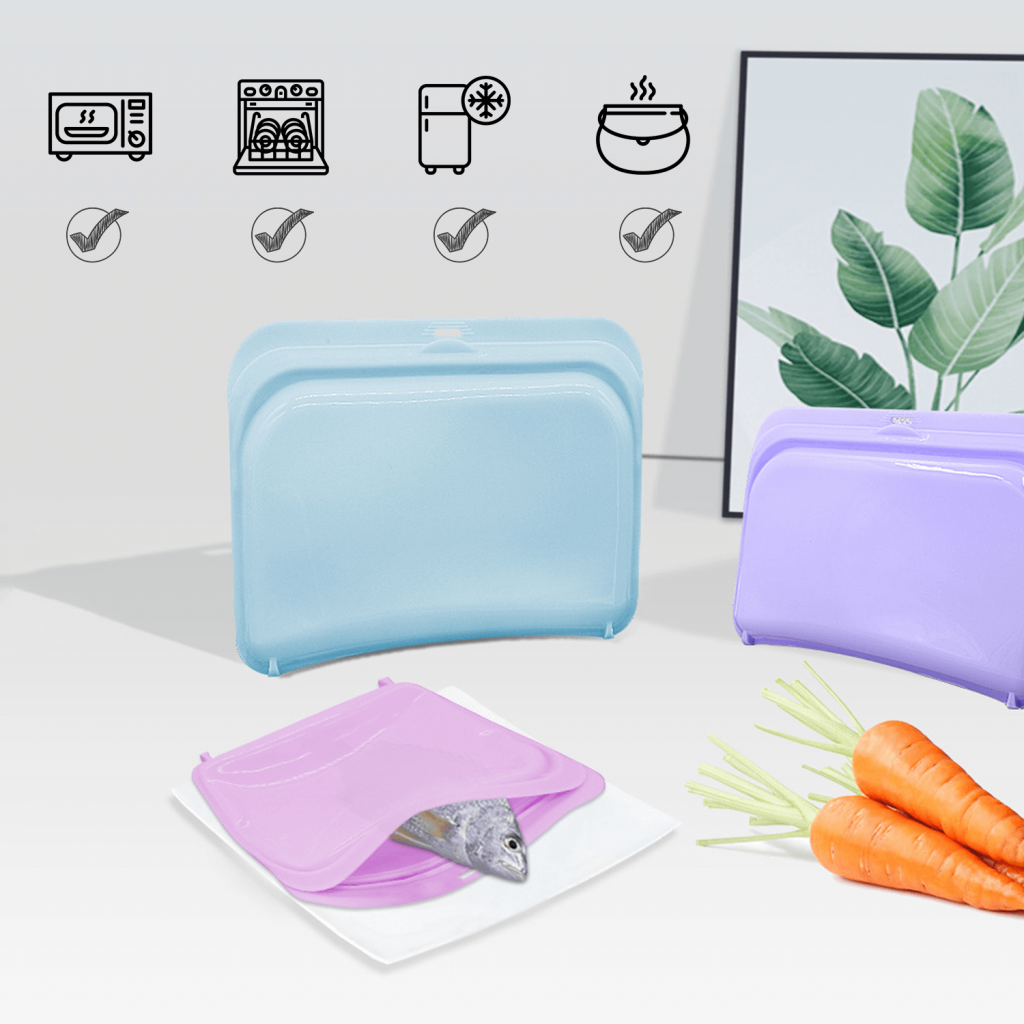 These silicone zero waste bags are designed to tolerate -40°F & 450°F, safely used in the refrigerator, freezer, microwave oven, boiled water and dishwasher. 3 different size bags can apply to various kinds of food. These bags can effectively keep the food fresh, keep your kitchen organized and make your cooking become more convenient.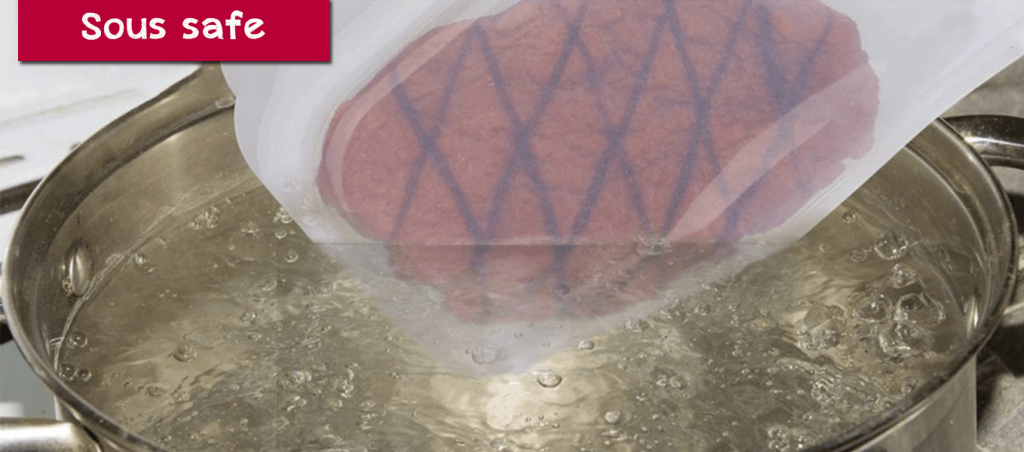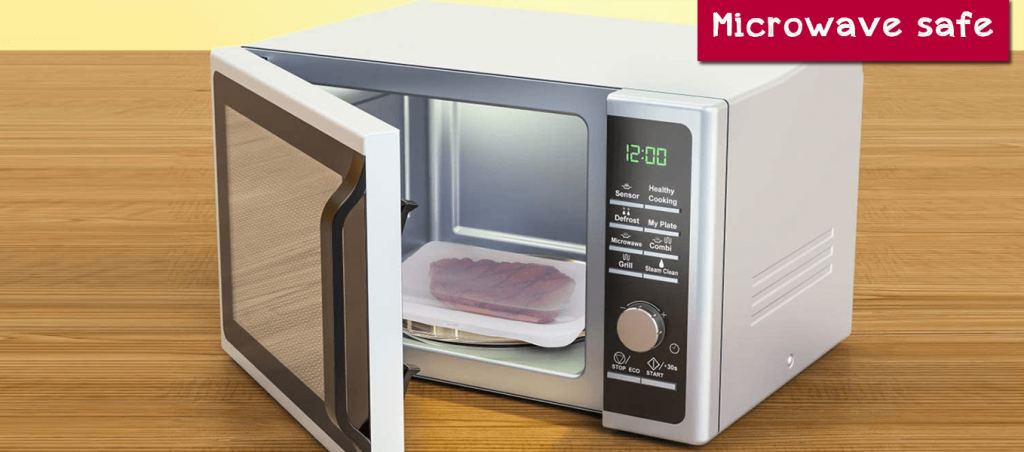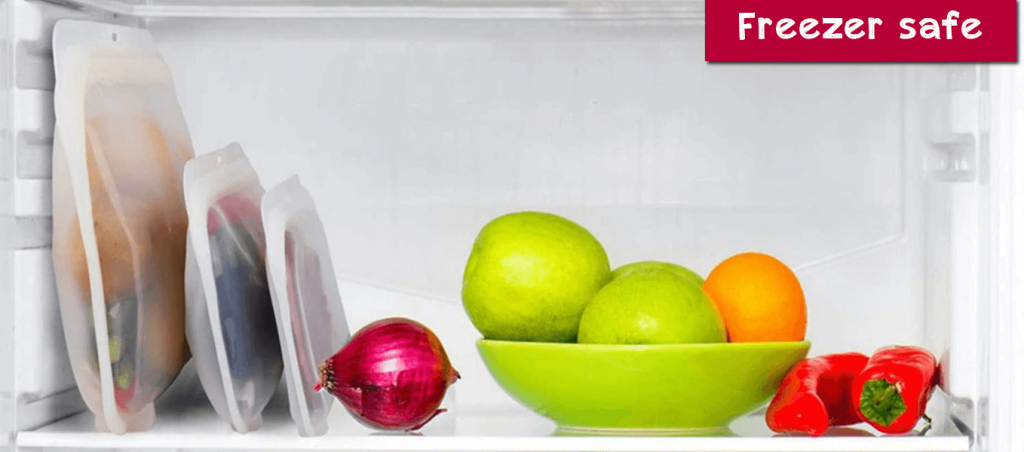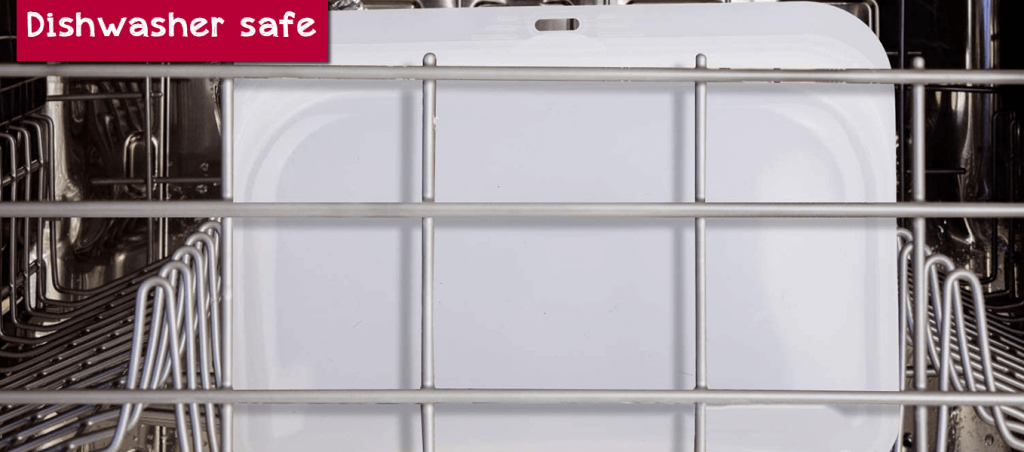 SAVING SPACE IN FRIDGE AND KITCHEN
Saving space is our top priority. Compared to plastic containers, our reusable silicone zero waste bags offer space-efficient nesting functionalities. Their transparency allows you to see the contents inside clearly; due to their wide base, the reusable freezer bags will stand upright and remain open while you fill them up. They can keep your food fresh without releasing any odors.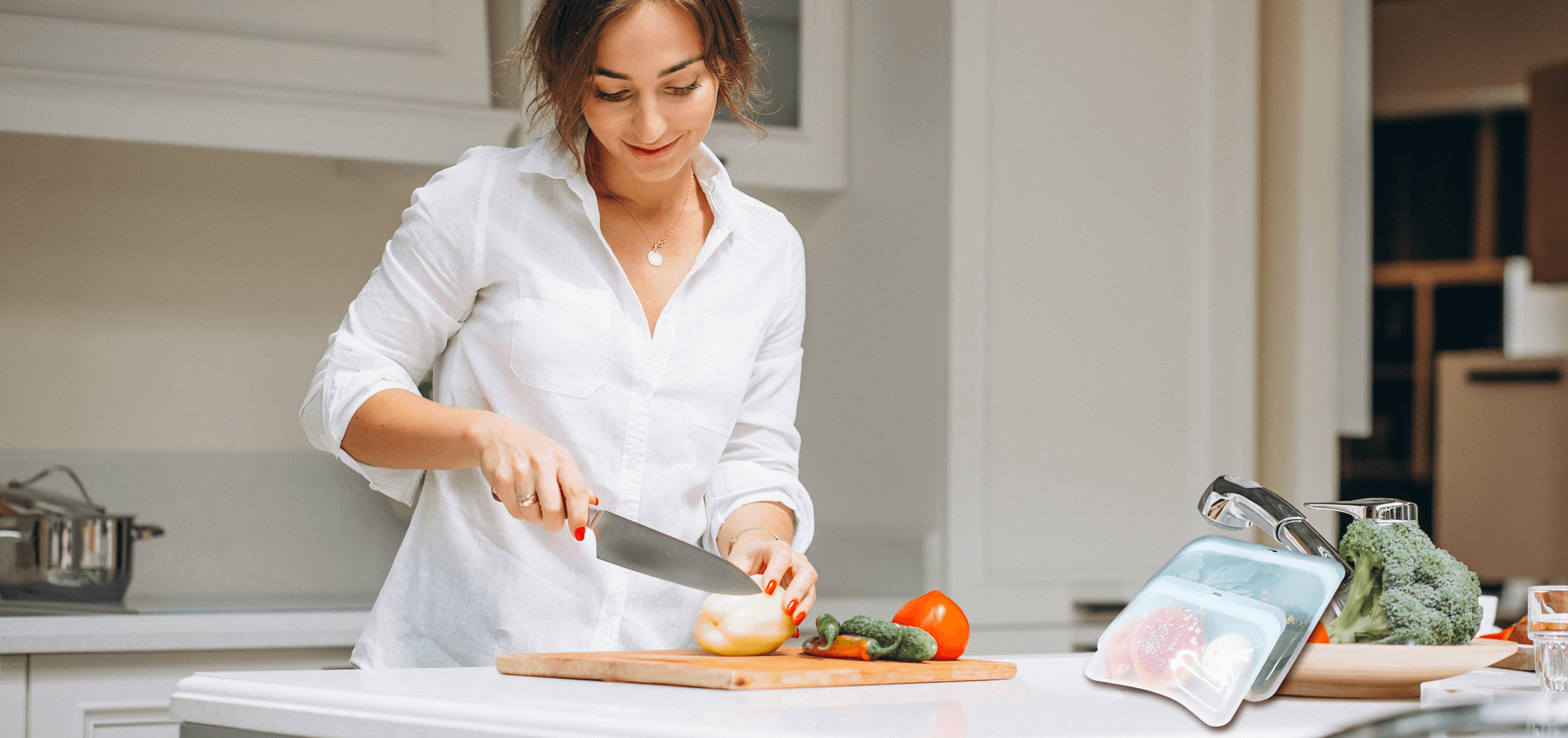 CONSIDERATE DESIGN AND LEAKPROOF
The integrated design make our storage bags can be put into the microwave oven to heat directly without taking off the sealing rod like other silicone storage bags; The fasten component design can help to enhance the hermetic seal and leakproof; The hook, smart stand design can help you storage liquid like juice, soup more easily; These silicone zero waste bags have expandable base so they can stand up or be folded for better storage.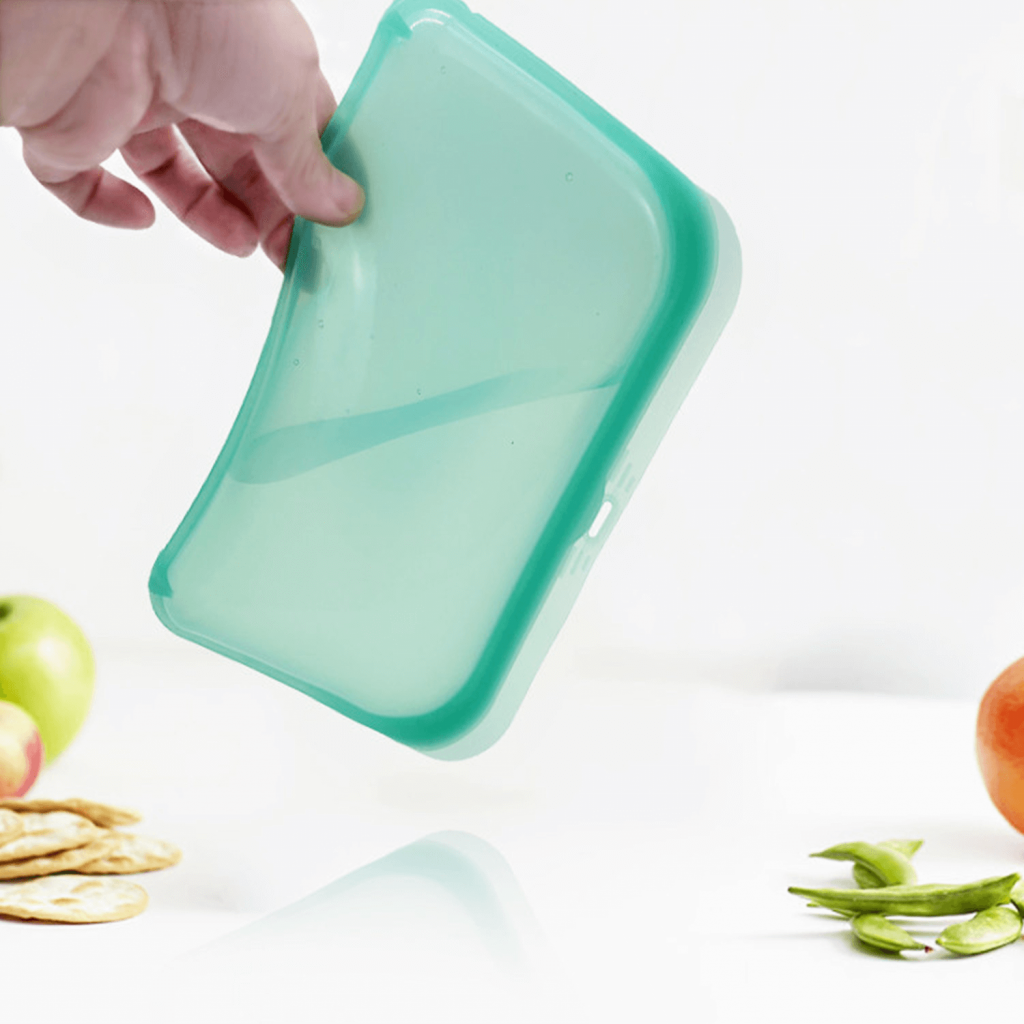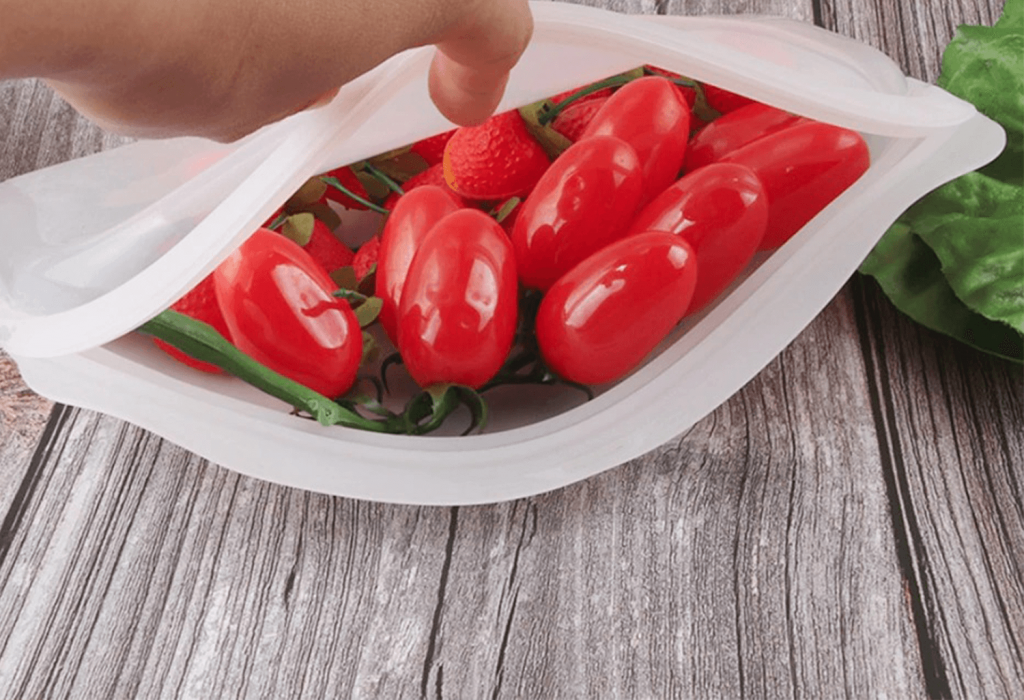 EASILY WASHABLE, QUICKLY DRYABLE and ENDLESSLY REUSABLE
The silicone zero waste bags are reversible: you can turn them inside out, wash them by hand or just simply throw them into the dishwasher & let it do the job for you! No need to worry about bacteria & mould anymore! The round corners are extremely easy to clean. The reusable zero waste food storage bags don't stain or retain any odour, so don't worry about them absorbing smell or becoming oily. We recommend that you disinfect the food bags when you first use the food bags.
PORTABLE AND MULTIPURPOSE
These storage bags can be used to storage food like sandwich, fruits, vegetables, biscuits, snacks, meats, juice or soup and small items like makeup brushes and so on, you can take it to company, school, picnic, camping or beach. The material makes the silicone bags very easy to clean, you can use markers to write on it and wipe out easily. These silicone bags are also good gifts for your friends or families on Thanksgiving day or Christmas.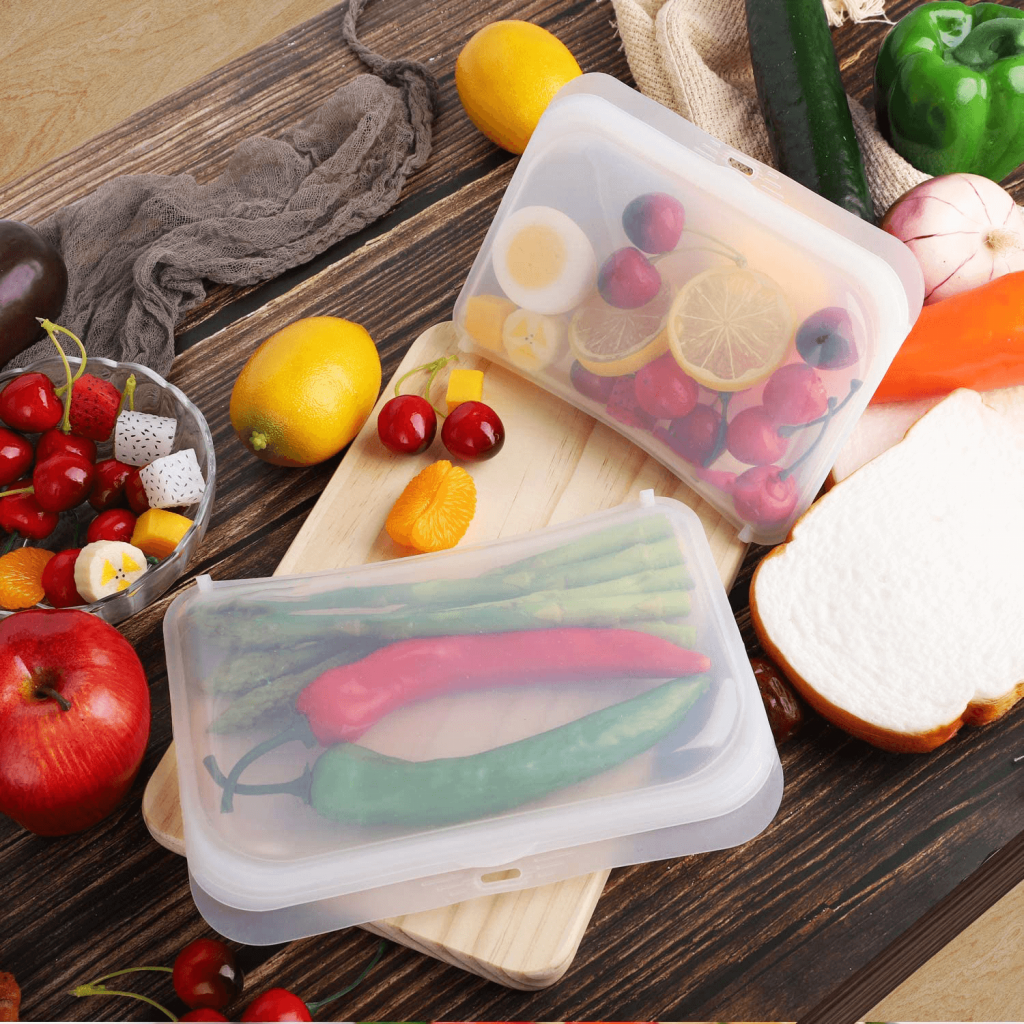 We don't like leaving behind a mess. That's why at Zero Waste Initiative, we package all of our products with plastic-free, 100% biodegradable shipping materials – Zero Waste canvas bag. No plastic wrap! No bubble wrap! No fee! Zero Waste bag is a special gift from ZWI which is compostable, reusable, recyclable but still assure the product's safe and make carrying all your new zero waste items a breeze.
Each package is shipped with love and mindfulness.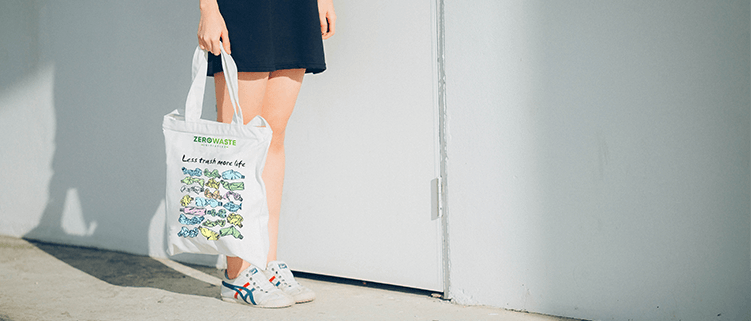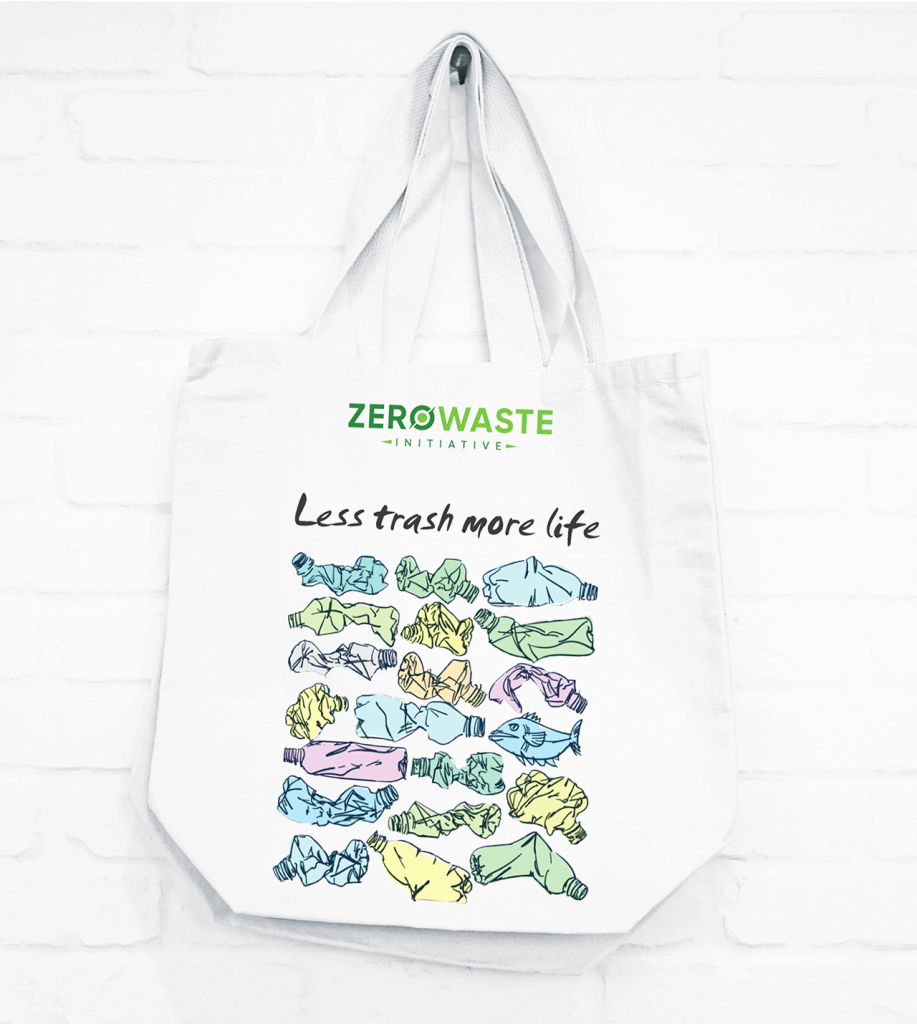 Learn more: Zero Waste Canvas Bag With Zipper And Inner Zip Pocket
+ Please do not ignore the color, size and quantity before purchase. We want our customers to get what they like.
+ If you have any questions, please contact us. We will do our best to solve your problem.
+ If you like our products, please follow our stores and leave us a 5-star review, we are eager to offer special promotions for our subscribers.
+ Visit our social channel to read more ZeroWasteInitiative tips : Google Business, Facebook, Instagram, Pinterest.