Zero waste cooking is an action you can easily take in your home. With a bit of planning and practice, you can reduce waste from your meals and have a more sustainable kitchen.
Did you know that Americans throw out over 40% of their food? While some live in poverty, households and restaurants throw out tons of food each year, wasting precious resources.
As we become more aware of the effects of food waste, chefs and restaurants are learning to become more sustainable and implement zero waste cooking, jumping on the trend of sustainability. Food establishments have the opportunity to lead the forefront to living a zero or minimal waste lifestyle.
I. What is zero waste cooking?
Is there such a thing as zero-waste cooking? Of course!
A new trend of sustainable act, which is called zero waste cooking is implemented at the beginning of 2019. The act aims to use 'wasted food' such as broccoli stems and bruised tomatoes, to establish the trend of reducing the unnecessary food waste caused by human's judge of beauty when choosing food material, which has led to a 1.3 billion tons of food waste annually.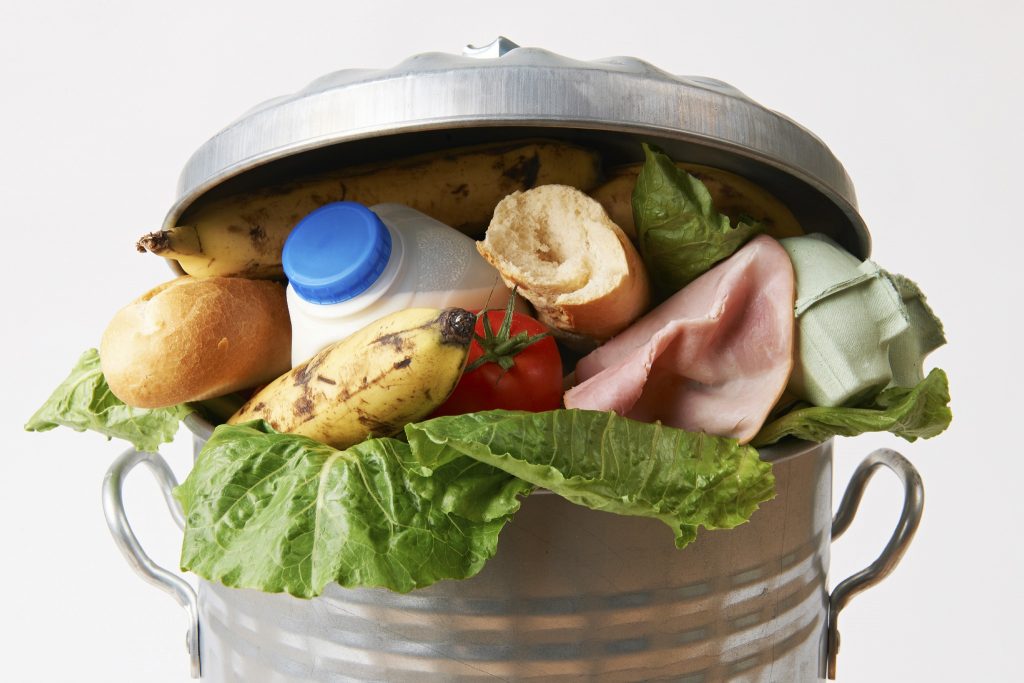 It simply means being mindful about the food (and other) waste you create while cooking and baking. Zero waste cooking is all about making the most out of every ingredient and leaving nothing to waste. When practicing zero waste cooking, you will use every single part of vegetables, fruits, meat, and whatever else may be required for your dish. However, this doesn't mean you must use every part in one particular dish. Parts can be used for other dishes in your kitchen, get composted, or repurposed for another use. A few weeks — or even days — into zero waste cooking and you're sure to be obsessed with using every bit of food that can be used in various recipes.
II. What are the benefits?
1. Aids environmental health
Wasted food is also a major contributor to greenhouse gas emissions. These gases absorb heat and trap it in the atmosphere, which leads to global warming. When food rots in landfills, it releases methane — a potent greenhouse gas even stronger than carbon dioxide.
The food system as a whole contributes nearly 13% of all greenhouse gas emissions each year. Wasted food — that which spoils or is thrown away — accounts for nearly 8% of gases.
When we throw food away, it not only wastes the food itself but also the abundance of resources — including water, energy, land, and labor — that went into growing, preparing, and distributing the food.
Thus, less food waste means fewer greenhouse gas emissions and a healthier planet for all.
2. Improve people's nutrient intake
Less food waste also means more food to go around for others.
Some chefs and entrepreneurs focus their zero-waste efforts on rescuing food that would otherwise go to waste and redistributing it to people in their community who are in need or just want to make sure that good food isn't wasted. Due to their perishable nature, many nutritious fruits and vegetables spoil before they can be eaten.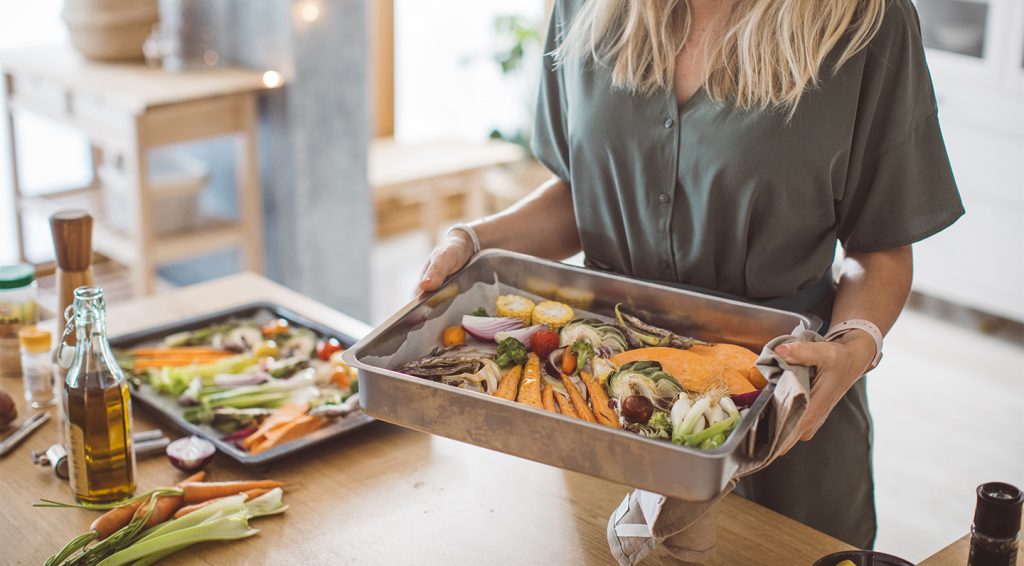 Ensuring that these nutrient-dense foods are eaten instead of discarded may help others increase their intake of health-promoting nutrients like vitamins and minerals.
Plus, by avoiding food containers and packaging, you may reduce your exposure to harmful chemicals used to make plastics and other food-grade materials.
III. How to get started
1. Plan your meals
Planning your meals is the most important step to starting zero waste cooking.
Meal planning not only means deciding what you're going to eat during the week but also entails thinking about how and when you're going to prepare your meals, as well as the ingredients you'll need.
Many people plan an entire week's worth of meals or more rather than one day's, though the exact time frame varies from person to person.
2. Compost when you can
In the event that you do have leftover food scraps, they can always be composted. Of course, if you do zero waste cooking well, you'll have as little leftover scraps to compost as possible. Even still, you want to have an option of what you can do with them, so composting is a great habit to adapt.
When you do have leftover scraps, you can compost it to create nutritious fertilizer. You'll truly experience the circle of life when new fruits and vegetables grow from that fertilizer. Try memorizing what can and can't go in the compost: cans include food scraps like veggie and fruit scraps (cores, peels, and pits), nuts and nut shells, seeds and tempeh, bread, coffee grounds, etc.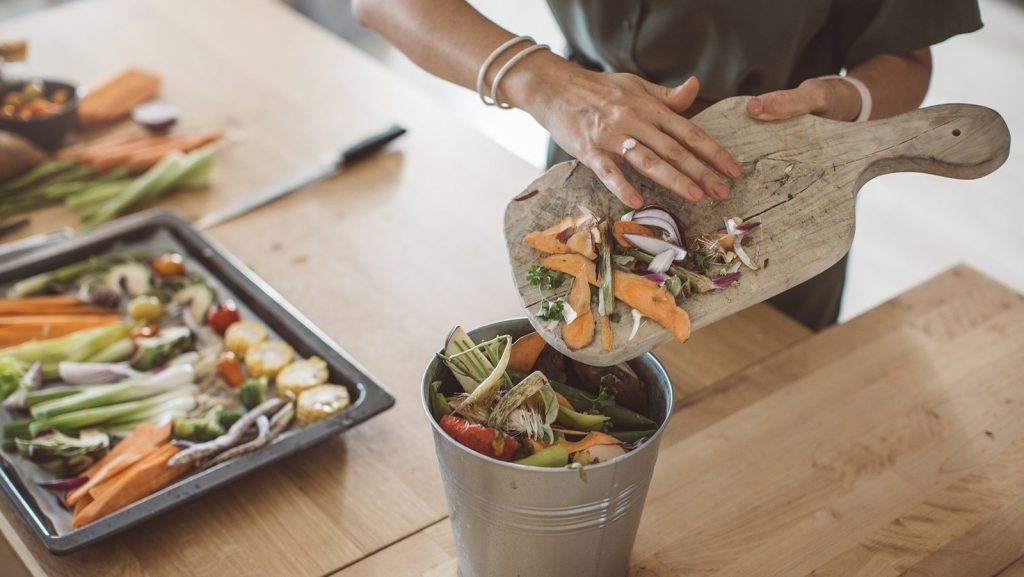 3. Buy in bulk from stores
Making thoughtful decisions at the store has just as much impact on waste as the decisions you make at home.
Whenever you can at the grocery store or co-op, try buying food (and other items) in bulk. Bring your own mason jar or reusable storage container, fill it up, and be sure to record the tare weight.
Paying close attention to expiration dates and estimating the shelf life of any perishable food you plan to buy are equally as important.
4. Invest in zero waste food storage
Produce or other food that spoils quickly is hardly the best use of that food. To ensure that your food lasts long, effectively storing it is key. This reduces your need for plastic saran wrap, tinfoil, and of course, plastic Ziplocs. You will want to create an arsenal of glass jars, stainless steel and glass containers, or you can use this Reusable Silicone Food Storage Bags.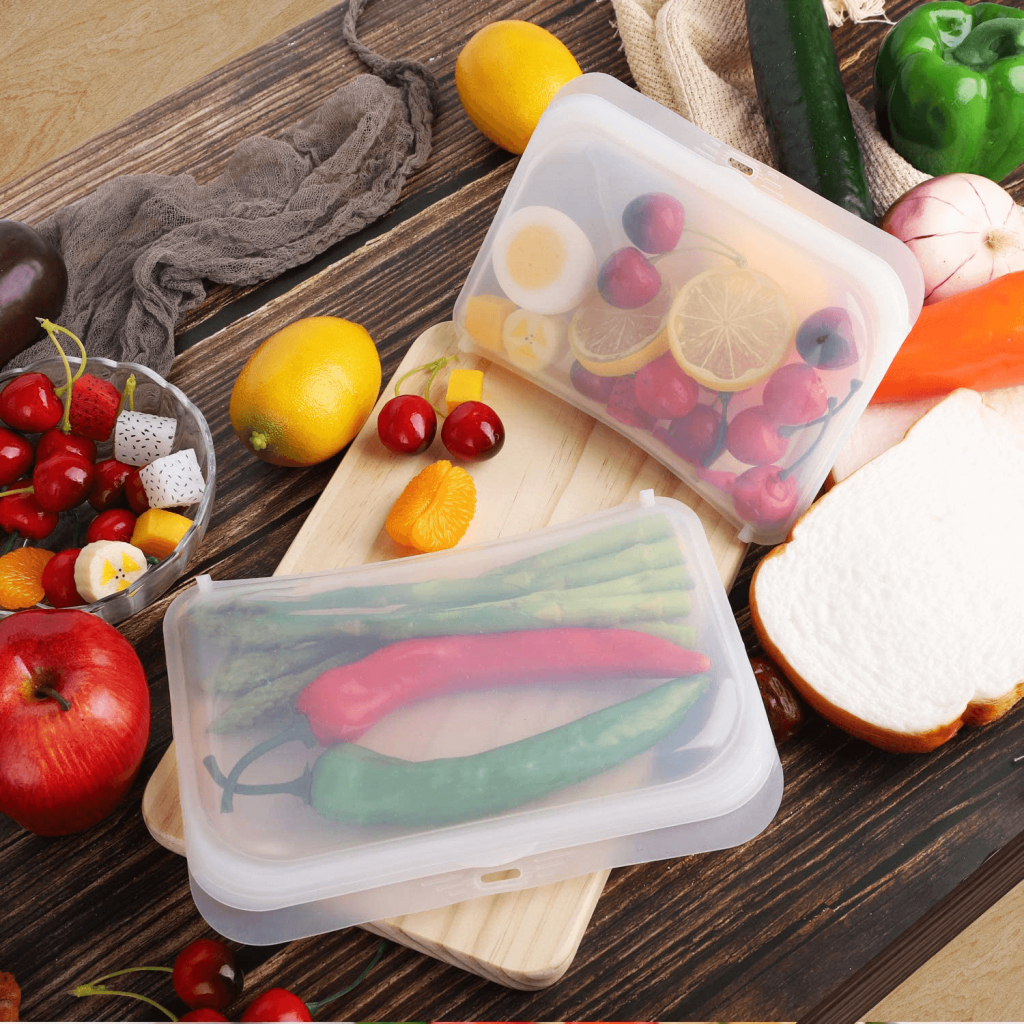 These silicone zero waste bags were BPA free, no PVC or any poisonous chemicals. They were made of 100% pure high quality food grade material, which is sturby, reusable and recyclable. These silicone zero waste bags are designed to tolerate -40°F & 450°F, safely used in the refrigerator, freezer, microwave oven, boiled water and dishwasher. The fasten component design can help to enhance the hermetic seal and leakproof. The hook, smart stand design can help you storage liquid like juice, soup more easily! Best item for your zero waste cooking journey!
5. Use all food parts
Another way to prevent food waste and achieve zero waste cooking is to use all parts of the ingredients you're cooking with. This does require chefs to get creative and think outside of the box with how to make certain dishes.
For example, if you have leftover coffee grounds, you can use them to flavor handmade ice cream for a dessert. Or when you're left with bones from meat or scraps from vegetables, throw them in a pot to create a flavorful broth.
You can also repurpose unused food parts in other aspects of the restaurant – not just in the kitchen. Rather than throwing away the rinds of oranges and lemons, hand them to your bartender to use in cocktails like martinis and old fashioneds.
6. Use silicone cooking utensils
Have you ever wondered why so many kitchen utensils are made of silicone? Well, that's because another advantage of silicone rubber is its non-porous nature. This makes it resistant to bacterial build-up, making silicone particularly useful in food and beverage applications, where food-grade compounds can provide total peace of mind. Silicone is also non-toxic, water-repellent and recyclable at specialised plants. And this Silicone Reusable Cooking Utensils will be your best partner in your zero waste cooking journey!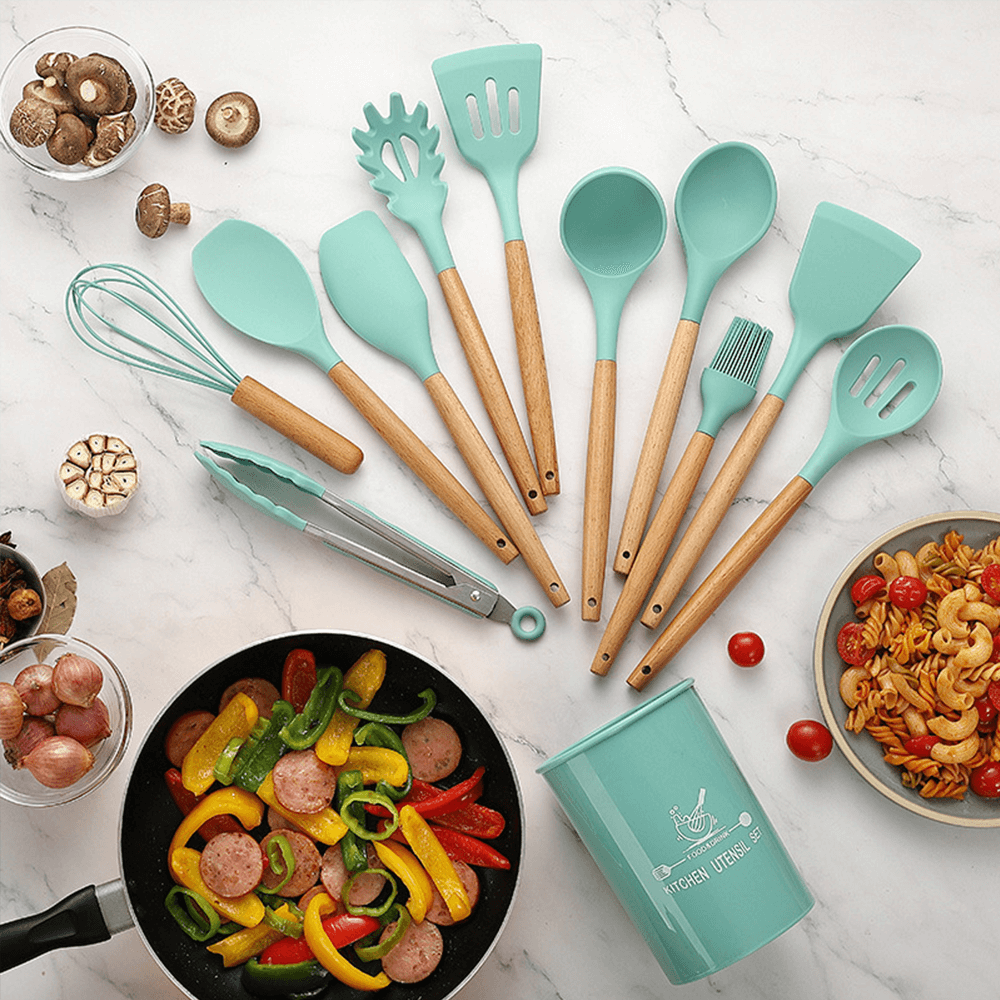 These zero waste cooking utensils with premium silicone, food-grade silicone head, BPA-free, non-toxic, and will not react with food or beverage. Our silicone heads are 100% high heat resistant (up from – 40 ° F to 446 ° F), so you don't have to worry about melting and deformation.