The 5 R Crew Neck Sweatshirt – Unisex Zero Waste Initiative
✨ Zero Waste Initiative designed the The 5 R Sweatshirt to express meaningful messages for everyone who is ignoring the call from the environment, the Earth, and nature.
☛ One Sweatshirt. Great inspiration. All for the planet.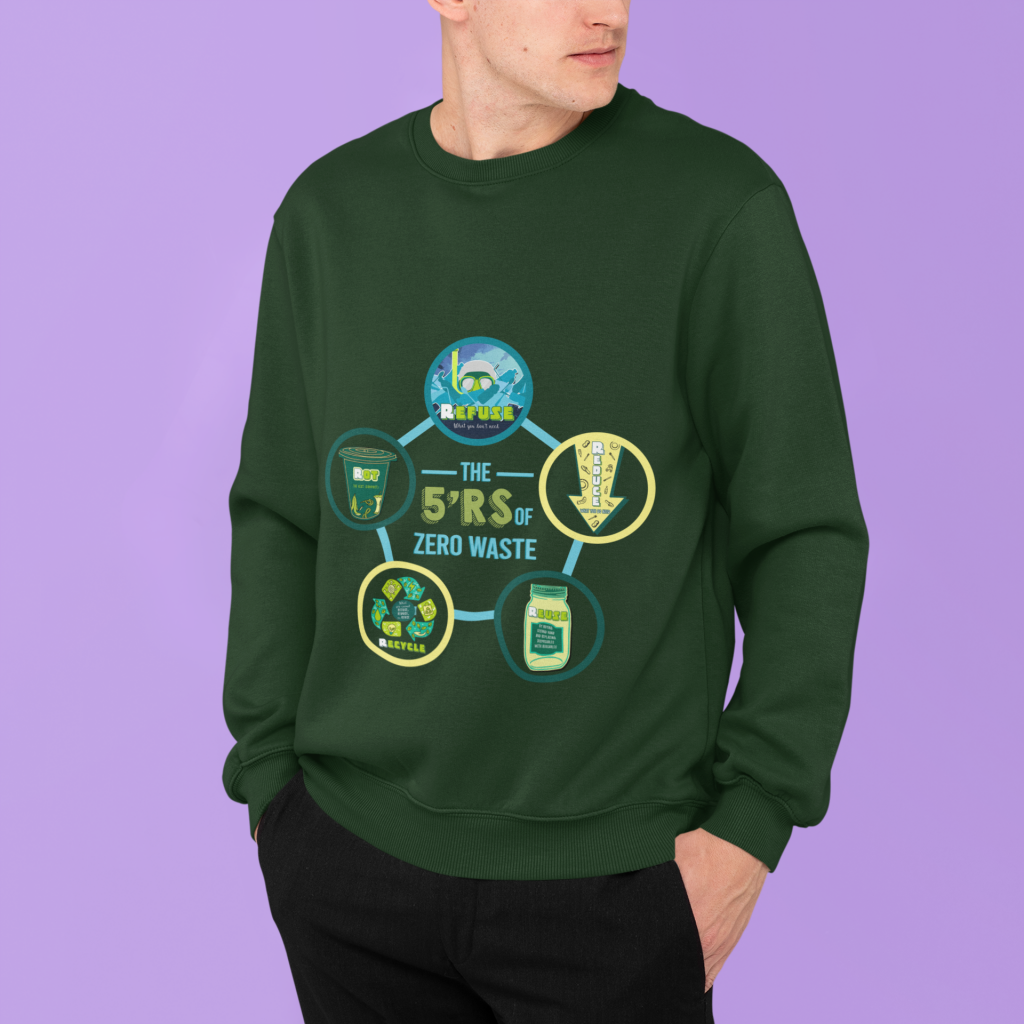 The mission of Zero Waste Initiative
♻️  We believe that each of us can make small changes in our lives that add up to make a big impact. We can use our purchasing power as consumers to influence lawmakers and corporations by shaping market demand towards more planet-friendly products and policies.
♻️  BUY A PRODUCT, PLANT A TREE – a tree planted for every product sold.
♻️  Ordinary purchase, Extraordinary purpose. Over 80,000 acres of forests disappear from the earth every day. A variety of factors contribute to deforestation, and humans are one of them. We believe it's important to leave the earth better than we found it – greener and cleaner.
♻️  We would love for you to join us on our journey to lead a low impact, cleaner and greener lifestyle.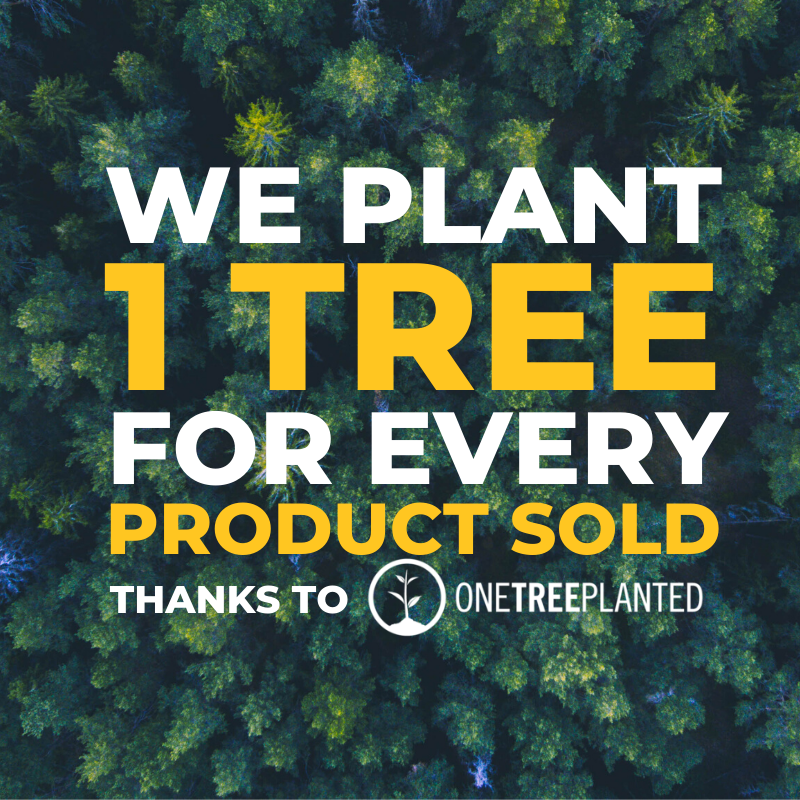 The 5 R Crew Neck Sweatshirt – Meaningful message 
✨ Many of us grew up learning about the 3 R's to reduce waste- Reduce, Reuse, Recycle. But did you know there are actually 5 R's to promote sustainability and fight our global waste crisis?
✨ The 5 R's of zero waste living are:
✔️ Refuse: Say no to what you don't need.
✔️ Reduce: Letting go of things that are no longer of use
✔️ Reuse: Switching disposable items for reusable and permanent alternatives.
✔️ Recycle: For those things you can't refuse, reduce, or reuse
✔️ Rot: Compost your own household waste or take part in a composting program for organic waste.
✨ Understanding these green concepts and putting them into practice is a great way to help eliminate waste and create a brighter future for generations to come.
The 5 R Crew Neck Sweatshirt – Good Design
✨ You can look good while being environmentally conscious. The unisex premium organic sweatshirt is made up of 100% organic cotton, making it green and comfortable. Plus, the shirt promises the best-possible print results, making it an excellent choice for you.
Relaxed, tailored and ultra-comfortable, you'll love the way you look in this durable, reliable classic. You can look good while being environmentally conscious
✨ This The 5 R crew neck sweatshirt is a great crewneck sweatshirt. Everyone needs positive awareness of environmental protection and wants to live a zero-waste lifestyle. A simple, Minimalist Nature design in an expertly applied and cured screen print on a soft, silky smooth makes you great.
Unisex Graphic Sweatshirt makes the best gift idea on Christmas, Fathers Day, Mothers Day, gift friends, brother/sister. Welcome home gift. Perfect for back to school or a Christmas gift.
The 5 R Crew Neck Sweatshirt – Features
✔️ High-quality fashioning with double-stitched seems.
✔️ 1 x 1 rib with spandex, quarter-turned to eliminate a center crease, tear-away label.
✔️ 60% polyester/ 40% cotton.
✔️ 8oz 50/50 preshrunk polyester cotton blend.
✔️ The air jet yarn & double-needle stitching all over gives it a durable, yet softer feel.
The 5 R Crew Neck Sweatshirt – Size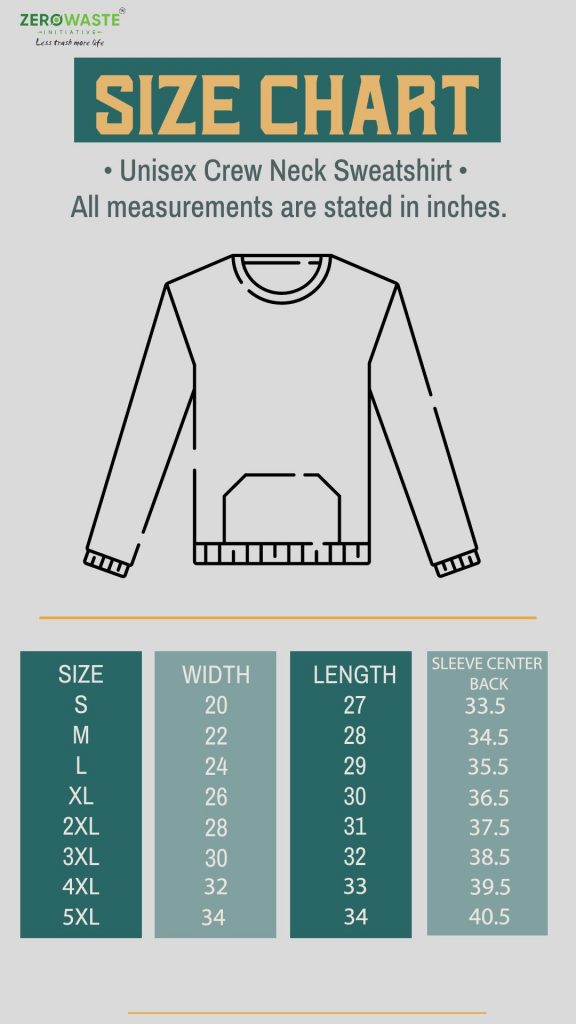 The 5 R Crew Neck Sweatshirt – Shipping Time
| | |
| --- | --- |
| US | Delivered within ~4–8 business days |
| Australia, Canada, United Kingdom | Delivered within ~7–15 business days |
| Europe (EU) | Delivered within ~7–15 business days |
| Rest of World | Delivered within ~7–15 business days |
The 5 R Crew Neck Sweatshirt – How Are Trees Planned?

+ Please do not ignore the color, size and quantity before purchase. We want our customers to get what they like.
+ If you have any questions, please contact us. We will do our best to solve your problem.
+ If you like our products, please follow our stores and leave us a 5-star review, we are eager to offer special promotions for our subscribers.
+ Visit our social channel to read more Zero Waste Initiative tips: Google Business, Facebook, Instagram, Pinterest, Twitter.