Summer time is finally here, and with it comes music festivals, camping adventures, beach visits, road trips, and so much more. If you want to celebrate summer, reduce your waste and live seasonally, you're in the right place. Here are 7 zero waste summer activities to do before the season ends!
Venturing out into the world each summer brings with it opportunities to have a lot of fun, but also opportunities to be more wasteful than we should be. One million plastic bottles purchased every minute. Eight billion number of drinks cans UK gets through each year. 12 million tones of plastic end up in the ocean each year. All those single use plastic bottles, sandwich wrappers, suntan lotion bottles, disposable barbecues all mount up.
Tips to Have a Zero Waste Summer Travel
1. Travel light
There are many ways that you can travel light- both physically and mentally for your zero waste summer journey. If you've packed smart, you may only need one bag and if you don't need to actually check anything in you'll not only save time at the airport but you'll save on the paper that's required to check you in too.
Taking less luggage with you is not only a lighter strain on you physically as you make your way towards summer adventures, but it also means you can lighten the load on your mind too. There's less to remember, less time hanging around at the baggage carousel and less temptation to fill your bags with unnecessary souvenirs too. Less 'stuff' means more space in your mind to explore, dream and enjoy your zero waste travel this summer.
2. Forget about single-use plastics
Have your own carry-on things, so you won't need single-use disposables. When you keep a zero waste travel kit in the trunk of your car, you are always prepared for a spontaneous summer meal or picnic. Here are some items to keep handy during your zero waste summer trip:
Reusable straws – bamboo, silicone, glass, or stainless steel
Cutlery – a bamboo travel set or mismatched thrift store cutlery
Containers of various sizes with tight fitting lids
Water Bottle – we never leave our house with our Zero Waste Water Bottle.
Beeswax Wraps
Travel Mugs
Mason jars with lids
Cloth Napkins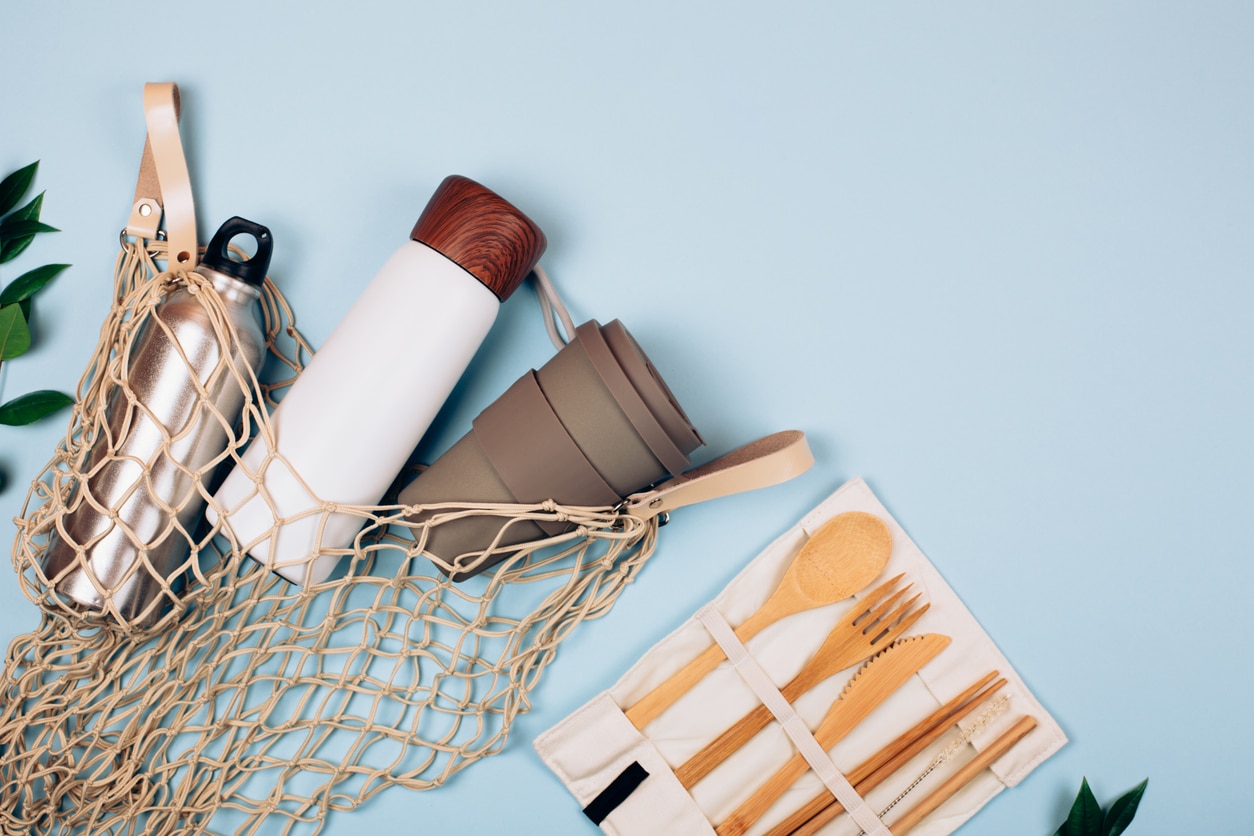 In this way, you can bring your reusable products to your next trip without using unnecessary plastic and move closer to being zero waste summer.
3. Compost your scraps
Part of zero waste summer travel is think ahead as to whether or not you will generate recyclables and compostables while you are out. Make sure you have something to put those in to bring home with you for proper disposal in case there isn't a recycle and/or compost bin available where you go. You'll be less likely to just shove everything in a public trash can if you've thought ahead and brought an extra bag or container for your recyclables and compostables.
When it comes to food scraps and being outside, a good rule to follow is if it wouldn't exist there without you, don't leave it there. When we leave food items outdoors that don't exist there naturally, animals that pick them up could become sick because that is not their natural food source. But, animals don't always pick up everything we litter that is biodegradable. Those items accumulate, rot, and become unsightly. It is always best to hold onto your food waste and dispose of it in a compost system.
4. Pre-vacation prepare
Do some research ahead of time about what will be available to you where you're going. Check to see if there are any recycling and/or composting options available. Seek out bulk food stores and other local shops to refill on snacks. Try to find a local farmers market, which will not only be a fun activity that exposes you to the local culture but will also be a great place to get some food items in your own reusable containers.
5. Get smart with the Sunscreen
Reports suggest that 14,000 tons of sunscreen are ending up in our oceans each year. Oxybenzone, a key ingredient in the vast majority of most commercial sunscreens, robs coral reefs of their life giving nutrients and turns them ghostly white.
So, what's the alternative? While the perfect answer involves wearing long sleeve T – shirts, hats and staying out of the sun that's understandably not always perfect.
The good news is that brands are now seeking alternatives to these unsustainable sunscreen chemicals, and many of today's best suncreams are certified 'reef-safe', so you can shield your skin while saving the shores. Look for sunscreens that use certified organic ingredients, and non-nano uncoated zinc oxide.
6. Leave footprints only!
Before you leave a beach, a camping site or a rest stop, remember to take a few minutes to pick up everything you used and all the litter you produced (Include a trash bag in your travel kit in case you are unable to find a waste disposal and recycling bin).
I found quite a lot of trash in just five minutes on one local beach. The best ways to protect our ocean creatures is to avoid plastic whenever we can and keep our natural spaces clean.
7. Recycle everything
Last but not least for a zero waste summer, don't forget to properly recycle everything that can be recycled.
We recognize that perfection isn't practical, that there are always going to be slip ups in your zero waste summer journey. There will be moments that you have no choice but to use a plastic bag or throw your compost in the trash.
If you fall off the zero waste wagon, don't beat yourself up. But do always strive to use single-use items that can be recycled. That way, the waste you are creating can be turned into something useful again and won't just wind up in the landfill.
Travel is not always easy, and add in a goal of zero waste travel and it can seem daunting. With a little preparation, along with mindfulness of your family's needs and schedule, going green during summer travels is not only a possibility, but it can even help lessen the stress of summer adventures. "Zero Waste is a journey… not a destination!"