"Last year, Americans spent nearly $2.3 billion on paper towels, sending 3000 tons of paper towels to landfills each day." Several months ago I realized just how many paper towels our family went through in a week and just how ridiculous it was. Every time I used one (or two), dollar signs flashed in my head and I could hear the sound as if I was actually tossing money in the trash.
A paperless kitchen is an investment and building up your stash of paperless products will take time. Take your time. Replace a one or two things a month.
Here are the benefits of going paperless kitchen:
Saves lots and lots of money, storage space.
Saves the landfills and oceans and water. Believe it or not, making paper towels is a very water intensive production.
Saves the trees from being cut to make single use paper products.
Saves electricity. Again, fabrication of paper towels use a lot of energy.
Saves the fish. All the chemicals and bleach being used to make paper towels look good are not being dumped in the water system and oceans.
Saves Stress. You will never run out and have to worry about buying them.
Saves your family's health by keeping them away from tons of chemicals.
Teaches kids to stay away from disposables.
Maybe it's time to ditch the paper products in the kitchen all together and going to a paperless kitchen!
1. Go without paper towels completely for a 1-2 weeks
Like so many other things in life, when what you're used to isn't there anymore, you use what you have on hand instead. If I have paper towels on my countertop I will use them. It's too easy and tempting. So take that roll and store it where it's not so easy to get to.
I started the paperless kitchen experiment just as we were running out of paper towels. Before going paperless, I used paper towels all the time. I honestly thought I would be lost without them.
Before purchasing the unpaper towels we have now, we simply used old t-shirts torn into strips.
You don't need fancy to make a paperless kitchen work.
2. Using Cloth Napkins
Switching to cloth napkins was the first step to minimize the cost of switching, I started picking up cloth napkins at thrift stores and yard sales.
We pull out a fresh set of napkins in the morning, and use them throughout the day. They just stay on the table between meals. Then, after dinner, we gather them up, and toss them in a laundry basket that we keep tucked under our kitchen shelf.
When we have guests, we typically pull out a fresh set of napkins for each meal. Sometimes guests are a little hesitant to use cloth napkins because they're afraid they'll mess them up, but that's easily remedied with a quick reassurance that we won't mind if they get stained.
So, a big part of what makes this paperless kitchen system work for us is that we have enough cloth napkins and washcloths to make running out unlikely.
3. All you need
A set of Microfiber cloths. They clean everything effortlessly. They dry fast. Just make them damp for a perfectly clean surfaces without any chemicals.
Colors like brown, tan and terracotta-colored do a good job of hiding stains. That's important because we don't use bleach, and I don't have any interest in scrubbing stains out of napkins.
Use one microfiber cloth per day. After you are done at the end of the day, just hang them to dry. The next day, place the used one in dirty laundry basket to be washed and use a fresh one. This will keep the germs away without any chemicals.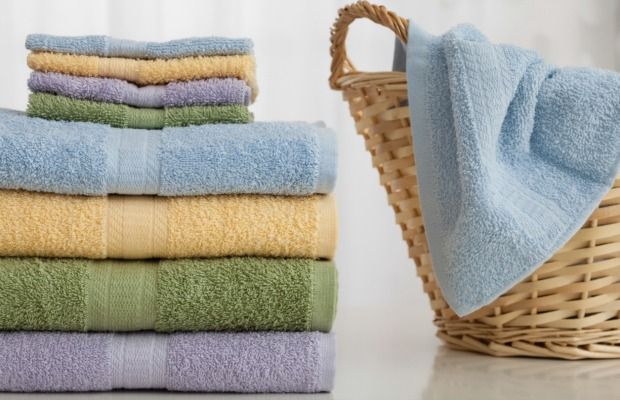 A set of Kitchen towels. The kitchen towels are used for any kind of drying . Hands, dishes , Fruit…. I hang one in my kitchen. I also have backups to use for drying big dishes. You can place them on the counter to let your dishes air dry on them. It is great to have less, but more efficient stuff in your paperless kitchen.
Hand made Natural fiber sponge. Use the natural kinds that are sold everywhere now. I made my own with a recycled yarn. It started as a fun project and i noticed they clean better and last a lot longer. I have not bought a sponge for months now. My dish scrubbers are being washed and reused along with other laundry.
Old and Stained towels. Old towels are used for the floors. After your kitchen towels get old and stained and you need to buy new ones (That might take years). Just buy a different looking set and use the old ones for the floors. This way you won't mix them up.
Old cotton t-shirts.
These are by far the best rags you will find. Don't throwing out and when they start to wear out as rags, throw them in a bin for those really gross messes where you just can't make yourself keep the rag.
4. Keep 'em clean
When we do find time to catch up on laundry, we just throw a load of napkins or washcloths in the wash (we wash them separately on warm) and call it good. We don't spending time pre-soaking, scrubbing out stains or doing anything else heroic. This way I don't have to think about washing them or taking them to the hamper.
The dark colors do a good job of hiding stains on the napkins, and I don't care a bit if our washcloths look clean, I just care that they are clean.
If we fold the napkins while they're still warm, they come out relatively wrinkle-free, but if that doesn't happen, we just live with a few wrinkles. Life is too short to iron napkins.
And, I promise, the environmental impact of washing cotton towels is much, much lower than the impact of buying new paper towels.
A lot of people are concerned about how much water it takes, but it's much less water than used in creating a new roll of paper towels.
5. Storing Your Cloths
In plain sight – Store cleana towels in a decorative kitchen jar: a glass cookie jar, a flour canister Roll them pretty. Not only will they be decorative, but they will spark interest and conversation about your paperless movement.
Designate a cloth drawer to store all your cloths. For seasonal decorations, use a plastic storage bin to keep cloths sealed off from dust (and to save space).
Used cloth bin – keep a hamper or basket in your pantry or under the sink for used cloths. This will be easy to transport it to the laundry room, and it will be in convenient location.
Going Zero Waste doesn't happen overnight, but taking small steps will help the transition. These tips come from a mom who is just decided on a whim that a paperless kitchen would be a fun challenge. I don't even remember when was the last time i bought paper towels.
Our journey to going paperless in the kitchen was underway!! So what do you think? Do you have what it takes to create a paperless kitchen?